The George Foreman grill is one of the best known kitchen appliances and many homes have one.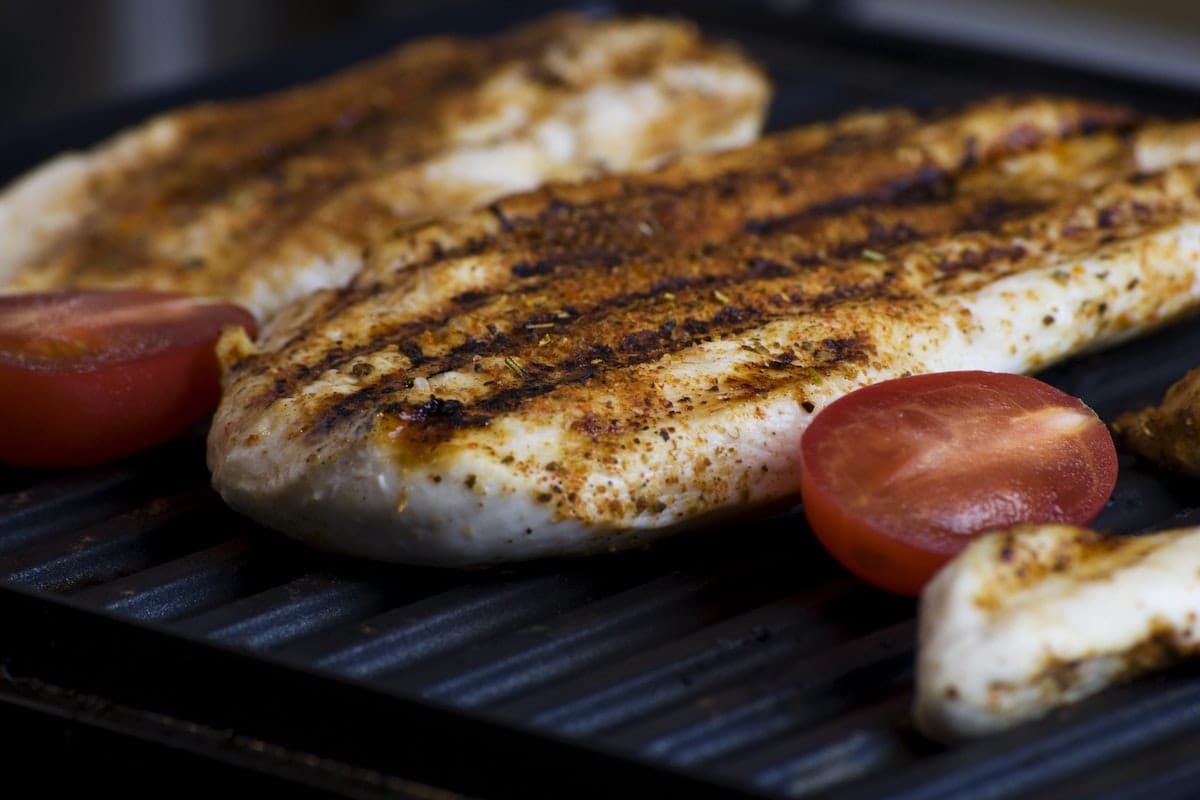 The success of the grills is not only due to the famous infomercial but the ease of use, healthy cooking method and quality of the product.
So we are going to look at 5 best rated George Foreman grills, so you can decide which one you are going to buy for yourself or as a fantastic gift for a loved one.
We will look at the features of each of our five reviewed grills and put together a buyer's guide for you so you have all the information you need to make an informed decision.
Finally, we will ask some questions that you may have wondered about yourself when it comes to George Foreman grills.
There's no getting away from it, the George Foreman Grill and Broil is a beautiful kitchen appliance.
Not only is it very attractive to look at but also incredibly versatile.
As well as the normal contact grilling that allows food to be cooked evenly from the top and the bottom, there is also the broiling feature.
To access this function, you simply remove the top grill plate to expose the infrared heating element.
This feature allows you to caramelize food or top melt any of your favorite dishes with the option of hi broil or low broil.
And when you are done you can simply remove the grill plates and drip tray and put them in the dishwasher for a quick clean up.
Speaking of the grill plates, these are now 5 times more durable as they are coated in ceramic.
Not only is ceramic a tougher material built to last but also PTFE and PFOA free.
Variable temperature controls allow you to cook a wide range of foods and the signature George Foreman forward sloping grill angle makes sure your food is not sitting in fat as it cooks.
This grill comes in a choice of six stunning colors, you may be hard pressed to pick a favorite!
Pros
Removable top grill plate allows use of heating element for broiling
Allows you to top melt and caramelize your dishes
Ceramic coating is 5 times tougher than previous models
Variable temperature controls
Cons
Relatively expensive compared to other models
The George Foreman 9-serving basic plate grill has 144 inches of grilling space, so you'll always have plenty of tasty food on the go for family and friends.
It still has the sloping grill angle to allow up to 42% fat to drain away from food, ensuring a healthier meal.
However this clever model also has the option of using it flat on your kitchen surface with the inclusion of a kickstand at the back of the grill.
When you are making panini for lunch this is the ideal setting.
Then when you are grilling meat for dinner you can put the kickstand out and return the grill to its familiar sloping angle.
To make sure all the food cooks properly the heat is distributed evenly across the entire grill surfaces.
The grill also has the familiar green and red indicator lights which let you know when the grill is on and when it has preheated.
The signature heating elements cook evenly and provide fast temperature recovery.
As well as grilling meat, chicken, fish and vegetables the 9-serving basic plate electric grill is also a very effective panini press.
This grill has a sleek and modern design with an attractive, platinum finish and the familiar floating hinge for cooking foods of varying thickness.
Pros
144 square inches of grilling space
Two positions, flat or sloping with the help of a kickstand
Even, fast cooking
Sleek, modern design
Cons
Plates are not removable for cleaning
The George Foreman Multi-plate Evolve grill is one of the most versatile that you will ever have in your kitchen.
You can create a multitude of different dishes with this appliance and still have the convenience of removing the grill plates for cleaning.
The grill plates are ceramic coated for traditional grilling and can be swapped out for the griddle plate for all your breakfast cooking needs.
For restaurant standard fare you can use the Evolve grill's 500 degree searing burst to deliver a beautiful finish to your meat.
The burst lasts 60 seconds and then returns the grill to the previous cooking temperature.
The grill also comes with plates for making perfect waffles, or you can remove all the plates and use the grill as a deep dish for baking or making omelets.
The adjustable floating hinge on the grill allows you to cook any thickness of meat, fish or vegetables evenly, top and bottom.
A digital control panel lets you accurately set the temperature and the sloping angle makes sure that any fat drains away from the food while it is cooking.
Pros
Versatile grill with multiple plate options
Ceramic coated for durability and ease of cleaning
500 degree searing burst option
Floating hinge caters for all thickness of foods
Digital control panel for precise temperature setting
Cons
Relatively expensive grill
The George Foreman 4 serving grill has the space to cook burgers, chicken and vegetables for a family of four.
Not only is there plenty of room on this grill for all your favorite food, but it will also cook 35% faster, so there is no waiting around.
The biggest advantage of this grill are the removable plates. So not only is cooking quicker but so is cleaning up afterwards.
Simply remove the grill plates and put them in the dishwasher along with the drip tray for easy and rapid cleaning.
A tough coating protects the surface of the grill, being twice as durable as previous models.
This also allows food to be grilled without the need for added oil to the grill surface.
Of course, the unique sloping grill surface allows the fat from your food to drain away into the drip tray, making it easy to dispose of and keeping your food crisp and healthy.
This model of George Foreman grill also features a unique adjustable hinge between the top and bottom plates.
This allows various foods to be grilled effectively regardless of how thick or thin they are.
From thin crispy bacon to a thick juicy steak the George Foreman 4-serving removable plate grill will cook it just right.
Pros
Removable grill plates for easy cleaning
Adjustable hinge for thick and thin foods
Extra durable grill coating for non-stick cooking
Sloping grill surface for fat draining
Dishwasher safe parts
Cons
Some fat may get underneath the grill plates
When you want that panini in a hurry you will need the George Foreman Rapid Grill.
This model heats up more than 30% quicker than previous removable plate versions.
That means that the time between plug in and plate up is faster than ever.
And when you are in a rush you can also put the removable grill plates in the dishwasher, so you're not wasting time doing the dishes.
Although with the Advanced George Tough coating there should be no effort required to clean your grill plates after use.
They are more than 3 times more durable than previous coatings.
The new coating means that there is no need to use butter or oil when you are grilling, and it is also free of PFOA.
The size of this grill makes it perfect for small families with space for five servings.
Whether you are cooking hot dogs, chicken, burgers, vegetables or panini you will have plenty of grill area.
Variable temperature controls with a simple-to-use slider make choosing the correct heat easy.
When you need to store your grill there is a cord wrap and the whole appliance can be stored vertically.
Pros
Grill heats up 30% faster than previous models
Removable grill plates for easier cleaning
Advanced George Tough coating is 3 times more durable than previous versions
Adjustable sliding temperature control
Cons
Best George Foreman Grills Buyer's Guide
So what should you be looking for when shopping for a new George Foreman grill?
We take a look at some of the things you should be considering before you choose.
Serving Size
The serving size of your grill should match the size of your family or the use to which you are going to put it.
If you think you will only use it for family gatherings then you will want to consider the number of people you will be catering to rather than just the number of people in your household.
It is also a good idea to look at the physical size of the grill as the indicated number of servings may not match the size of food that you typically cook.
For example, if you will be cooking for three people but like big steaks and burgers, a five serving grill may be better.
Remember though the larger the serving size of the grill the bigger the footprint of the actual appliance will be.
Make sure you have enough space on your countertop to accommodate it.
Functions
Consider the functions that you want your grill to have.
Some people may just want the basic and traditional grilling option while others want a multi-functional grill with lots of options.
The Grill and Broil is one such multitasking model. This allows you to grill, broil, caramelize, top melt and use as a panini press.
The multi-plate Evolve is another multi-functional grill with removable plates and the option to use it for baking.
Although these more advanced grills will be more expensive to buy if you will make use of all the functions and use them regularly then it is a good investment.
Temperature controls are another consideration.
Choose one that you are comfortable using and that is easy to adjust according to what you are cooking.
Some grills have digital controls while others are manual.
Some functions like the sloping angle of the grill plates to allow for fat draining and collection are standard across the entire range of George Foreman grills.
Speed
The primary purpose of a kitchen appliance is to make life easier and speed up any cooking process.
If you want a grill that heats up quickly or gives you a quick burst of searing heat there are models that will accommodate you.
A fast preheat means that you won't be waiting around too long for the grill to hit the optimum temperature to begin cooking.
Most of the grills come with indicator lights in green and red which show you that they are either preheating or temperature ready.
The Rapid grill heats up 30% quicker than some other models so if you want a grill that is ready to go in double quick time this may be the one for you.
Other models have fast temperature recovery and the Multi-plate Evolve has a 500 degree searing burst that lasts 60 seconds before returning to normal temperature.
Durability
The majority of George Foreman grills have the Advanced George Tough non-stick coating.
This is 3 times more durable than the coating previously used on the grills, the George Tough coating.
The new Advanced George Tough coating is also PFOA free.
Ceramic coated plates on some of the grills are 5 times more durable than the original coating.
This not only makes the grills stand up to even tougher use, but the surface is better for cooking on as it tolerates higher temperatures and is more resistant to scratches.
Depending on how much you are likely to use your grill you can choose a Teflon non-stick for light to medium use or a ceramic coated grill for heavier or more frequent use.
Design
There are many different designs of grill in the George Foreman range and the particular design you choose will be down to personal preference.
However, there are aspects of the design that you should bear in mind as they will have implications for the use of the grill.
One of these is the inclusion of the floating hinge.
This allows the top and bottom grill plates to be joined together with an adjustable fixing that automatically fits various food depths.
Rather than being a fixed hinge with limited movement the floating hinge permits the top grill plate to sit higher or lower depending on the thickness of the food on the grill.
This ensures that the top grill plate is always in contact with the food for even cooking.
A grill with two positions allows optimum usage for both grilling meat and for making panini.
The sloping angle allows fat to drain while a level grill is best for toasting sandwiches.
Consider what you will be grilling before making a choice.
Finally think about the look of the grill, do you just want a functional appliance that cooks well and is easy to use.
Or do you also want an attractive grill that looks good on your countertop?
Luckily most George Foreman grills give you both.
Ease Of Cleaning
While using your George Foreman grill will give you and your family lots of delicious and healthy meals, there's always the not so pleasant side of cleaning the grill afterwards.
If everyone disappears when it's time to do the dishes you may want to consider opting for a grill with removable plates and let the dishwasher take the strain.
Most grills also have a removable drip tray which you can also pop in the dishwasher for easy cleaning.
Frequently Asked Questions
What Is So Special About A George Foreman Grill?
There are many unique features on a George Foreman grill.
The clam shape with two grill plates allows food to be cooked on both sides at the same time.
The forward sloping angle allows fat to drain away from the food during cooking.
These things make the George Foreman grill a healthy option for cooking all kinds of tasty food.
Do You Have To Flip Meat On A George Foreman Grill?
There is no need to flip meat or any other food that you can cook on a George Foreman grill.
The top and bottom of the grill have active grill plates that cook food on both sides simultaneously.
Is It Necessary To Spray Oil On A George Foreman Grill?
The surface of the grill plates on a George Foreman grill are covered with Teflon or ceramic, both of which are non-stick materials.
For this reason, there shouldn't be any need to spray oil on the grill.
If the Teflon surface is damaged the grill should be replaced.
Can I Cook Eggs On A George Foreman Grill?
A George Foreman grill can be used as a griddle so yes, you can cook eggs on most models.
Latest posts by Tommy Hall
(see all)