Vegan recipes are really trending at the moment, and rightly so. Vegan dishes not only mean that no animal gets sacrificed, but also that no harm comes to any animals in the extraction of food products.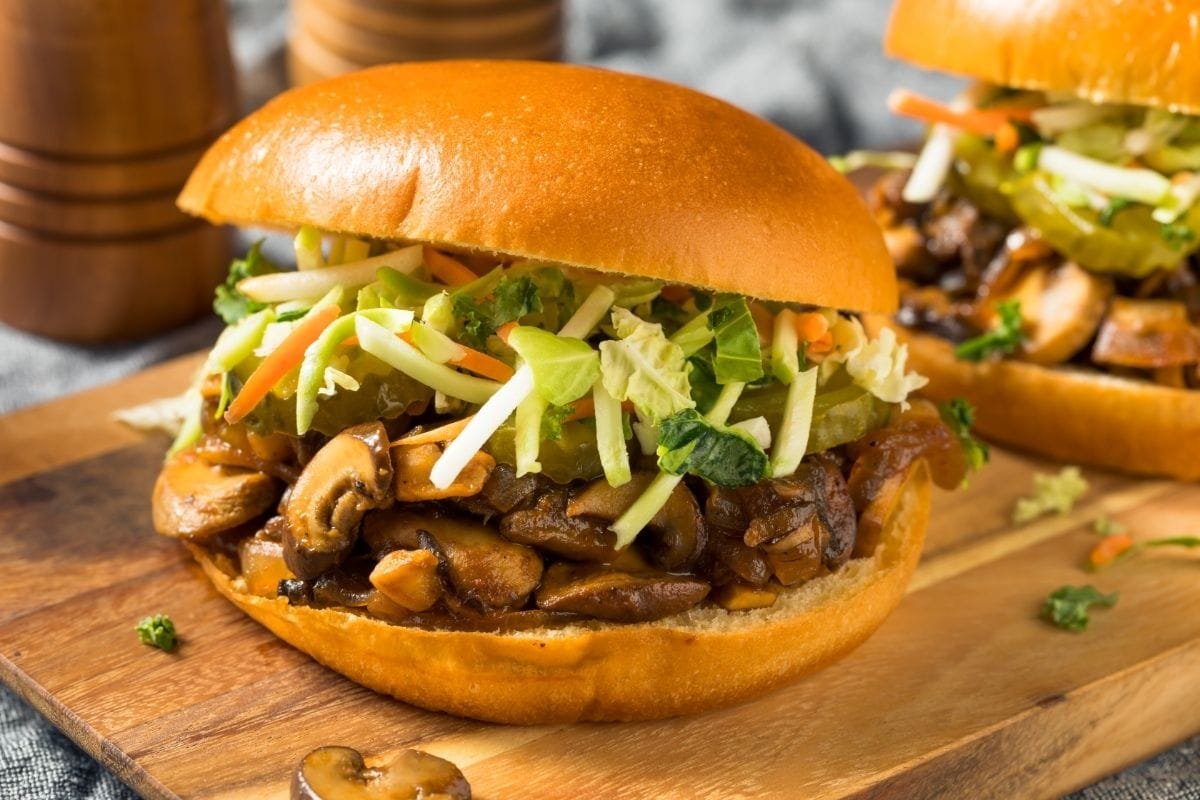 And by going vegan for as many meals as possible, you're also helping the environment at the same time, due to the effects of veganism on agriculture.
And as a general rule, going vegan also means going healthier. There's no red meat to worry about, and there's an excellent variety of tasty vegetables at your disposal, all packed with lots of healthy nutrients such as vitamins and minerals. And lots of vegan foods come packed with energy too.
But if you've ever thought that vegans can't eat barbecue, I'm happy to prove you wrong! I've sourced some amazing vegan barbecue recipes for you to try out, and I can't wait to share them with you.
I've tried them all myself and confirmed that they're not only 100% vegan, but they taste so good, you'll want to make them again and again. 
Here goes!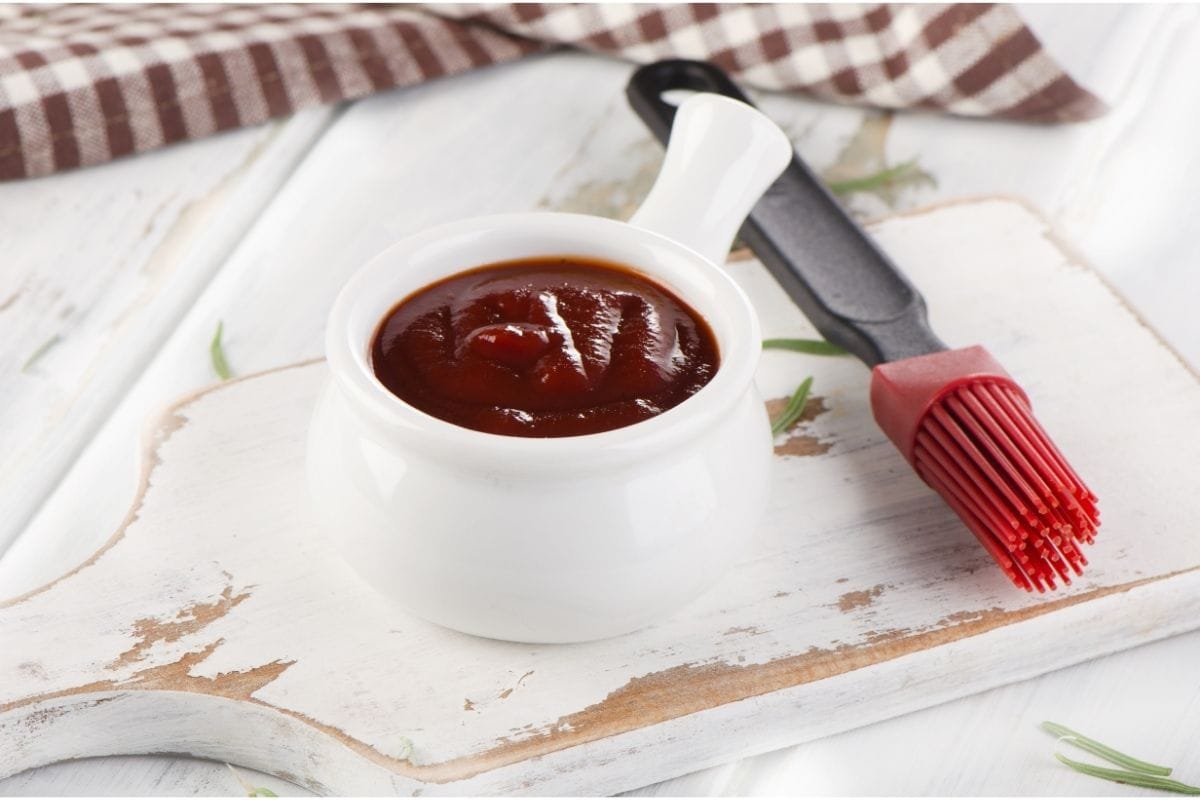 I'm sure you'll agree that one of the key staples of a barbecue is a yummy barbecue sauce. But if you have a vegan guest, you cannot make do with some run-of-the-mill store bought barbecue sauce.
However, this recipe I've found gives you everything you could want in a barbecue sauce, and it's vegan to boot.
It's perfectly sweet, yet also tangy, a bit smokey, and a little spicy too. And it only takes a mere 10 minutes to make.
Ingredients include soy sauce, apple cider vinegar, maple syrup, paprika, chili powder, and more.
For the full recipe, simply click on this link.
Cauliflower is such a healthier alternative to red meats, and with a little help from some carefully coordinated spices, you can make it taste just as good if not better than a slab of meat.
This recipe is super  simple and low in calories. You take a fresh cauliflower, slice it up, drizzle some olive oil over it and sprinkle a spice rub.
This spice recipe offers some heat to really spice things up, and you can adapt the recipe according to how hot you like your spices.
It features cumin, smoked paprika, ginger powder, crushed red pepper, garlic powder, and more.
For the full recipe, simply click on this link.
There's absolutely no need for vegan guests to miss out on a scrumptious burger in a hot toasted, crispy bun.
Instead of meat, this recipe uses some alternative ingredients, such as chickpeas, chopped onion, mushrooms, and rolled oats to make up the bulk of the patties.
And to make it even more flavorful, it also features chopped garlic, oregano, basil, and more.
For the full recipe, simply click on this link.
Grilled corn on the cob is something of a staple for a barbecue, with or without vegan guests.
And if you were to use the moreish marinade in this recipe, you get a much more flavorful substitute for butter.
It features such ingredients as almond milk, green onions, cilantro, smoked paprika, cumin, chili powder, thyme, and of course salt and pepper.
You only need to marinade the ears of corn for an hour before they can hit the grill on a high heat to get those amazing grill marks, before moving to an indirect heat to finish. Amazing!
For the full recipe, simply click on this link.
And for those vegans or vegetarians who don't want to miss out on a burger-style treat, this recipe has got it going on!
This recipe makes 4 burgers, and the ingredients to make up the patties include uncooked farro, cooked black beans, cooked red potato, Mango Habanero Salsa for flavor, and some cornmeal.
But what really takes this recipe to a whole other level is the recommended accompaniments, which include the likes of a Mango Habanero cream, and a crunchy avocado slaw.
For the full recipe, simply click on this link.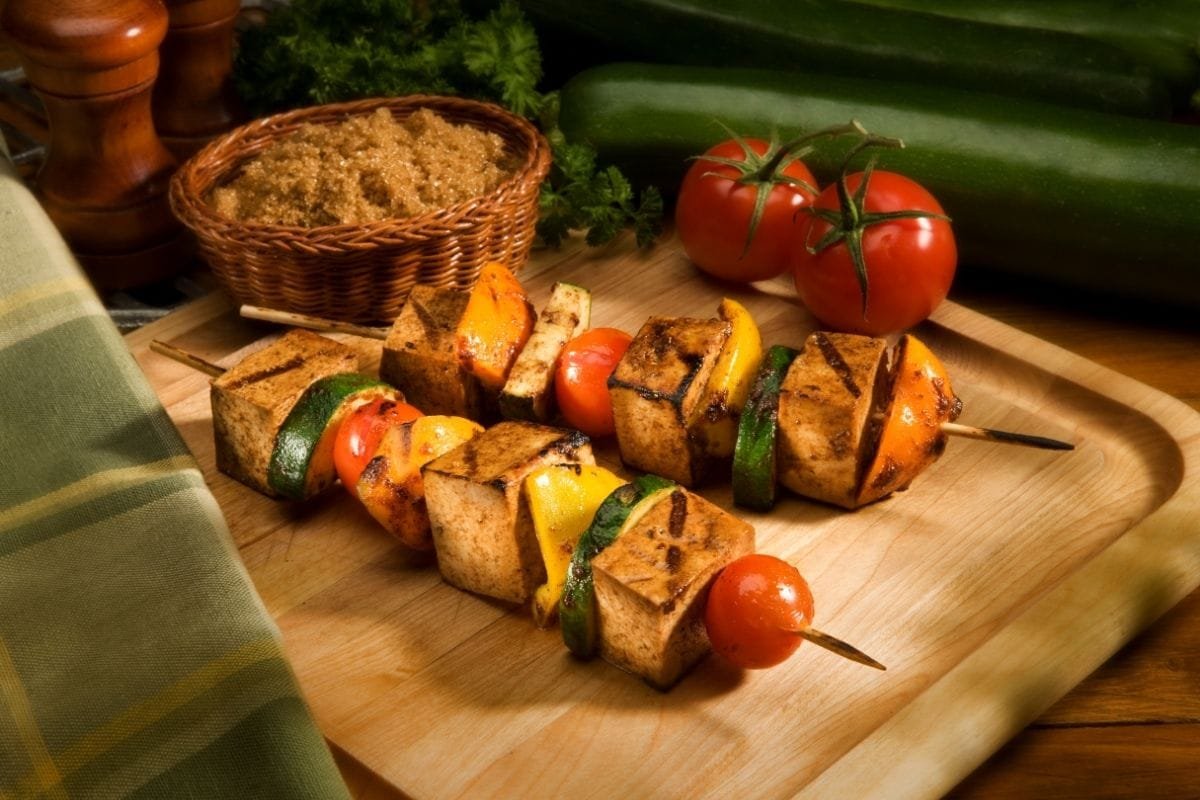 If you follow this recipe, you can make tofu skewers for your grill that are just as satisfying as their chicken counterparts.
What's more, the recipe also includes a delicious peanut butter based marinade that pairs perfectly with the accompanying satay sauce dip that you can enjoy drizzled over the skewer once the tofu is cooked.
The key ingredient in both the marinade and sauce is vegan smooth peanut butter.
For the full recipe, simply click on this link.
And while still on the theme of skewers, here's another great vegan option. In place of chicken on the skewers, it's got seitan, which I can assure you is delicious!
The other main features on the skewer include peppers, pineapple, red onion, and grape tomatoes.
But the star feature of the recipe has to be the sweet and savory glaze, which includes such ingredients as pineapple juice, freshly grated ginger, brown sugar and more. Very summery!
For the full recipe, simply click on this link.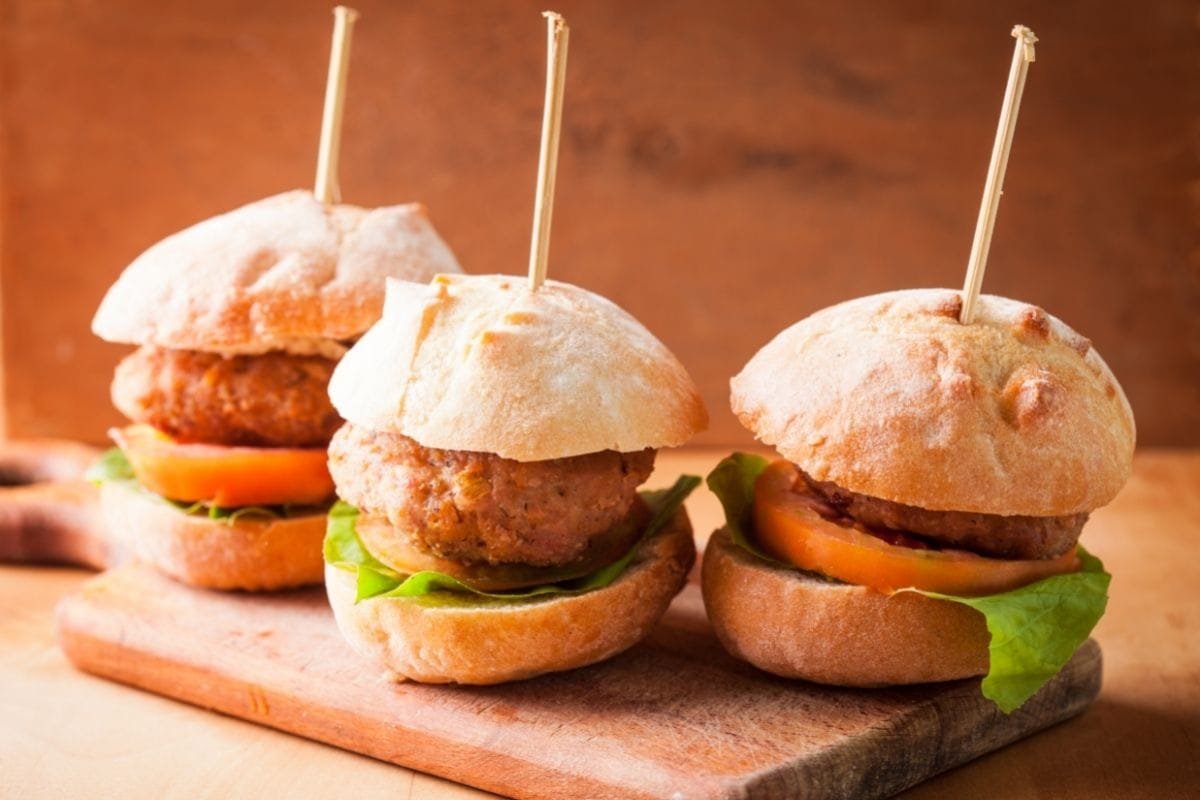 And in keeping with the summer theme, these lime flavored vegan burger patties are perfect for a summer barbecue!
The primary ingredients are chickpeas and oats, but there's plenty of flavor to get your teeth sunk into thanks to the fresh lime juice, lime zest, coriander, and ground hazelnuts – yum!
For the full recipe, simply click on this link.
Now, this recipe is both very nourishing and juicy and delightful. The skewers provide a nice mix of flavors, including savory mushrooms and courgettes, but there are also chunks of peaches thrown in to really mix things up!
What's more, it comes complete with an amazing avocado dressing, full of good, healthy fats.
For the full recipe, simply click on this link.
Who doesn't love sweet potatoes? Nourishing, filling and delicious.
This recipe requires a flavorful glaze, made with such tasty ingredients as soy sauce, chopped ginger, peanuts, chili, green onion, and sesame seeds.
For the full recipe, simply click on this link.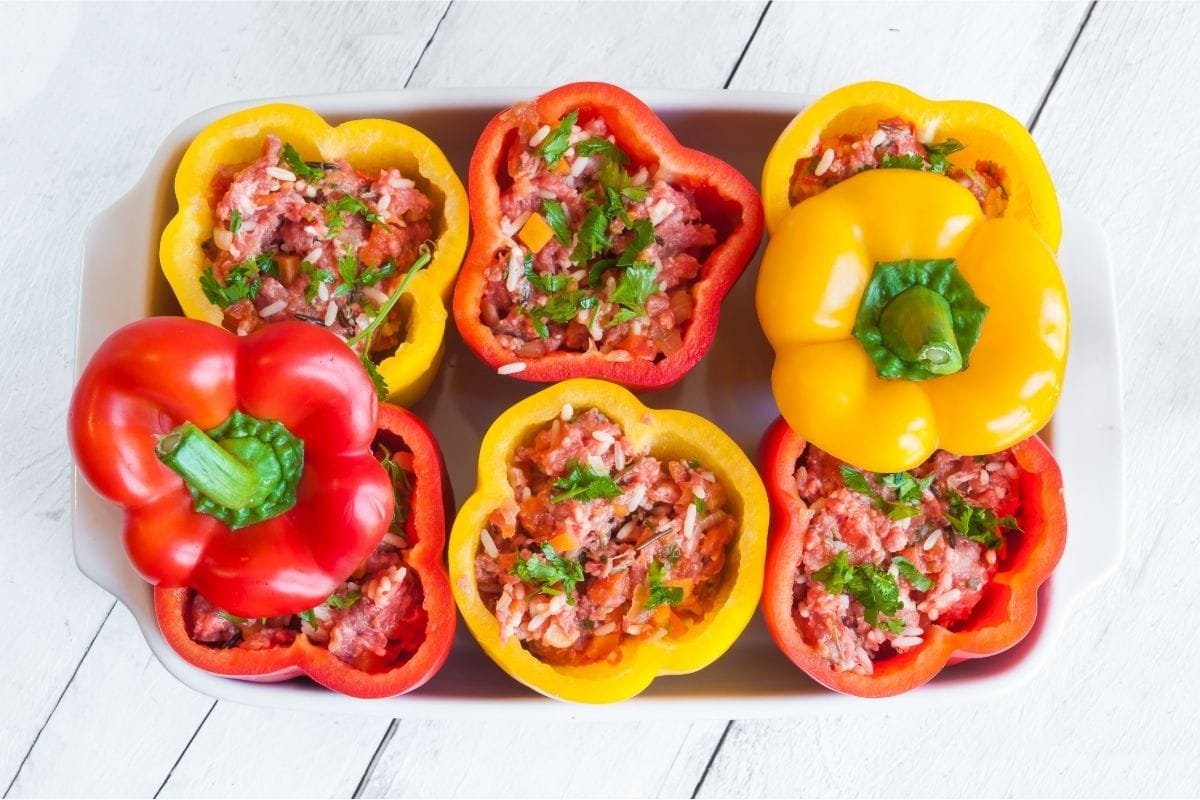 Red peppers are full of flavor – especially when barbecued! And with this recipe you can pack even more flavor in…
The salad stuffing includes such ingredients as buckwheat, crushed garlic, red onion, cumin, coriander, light brown sugar, hazelnuts, pistachio nuts, and dates.
For the full recipe, simply click on this link.
On a hot summer day, you're going to want a nice refreshing frozen lolly to wash your food down with – and this recipe is perfect for that!
It only requires two ingredients, namely oranges and pears, and it's way healthier for you than the lollies you buy from ice cream trucks that are full of added sugar.
For the full recipe, simply click on this link.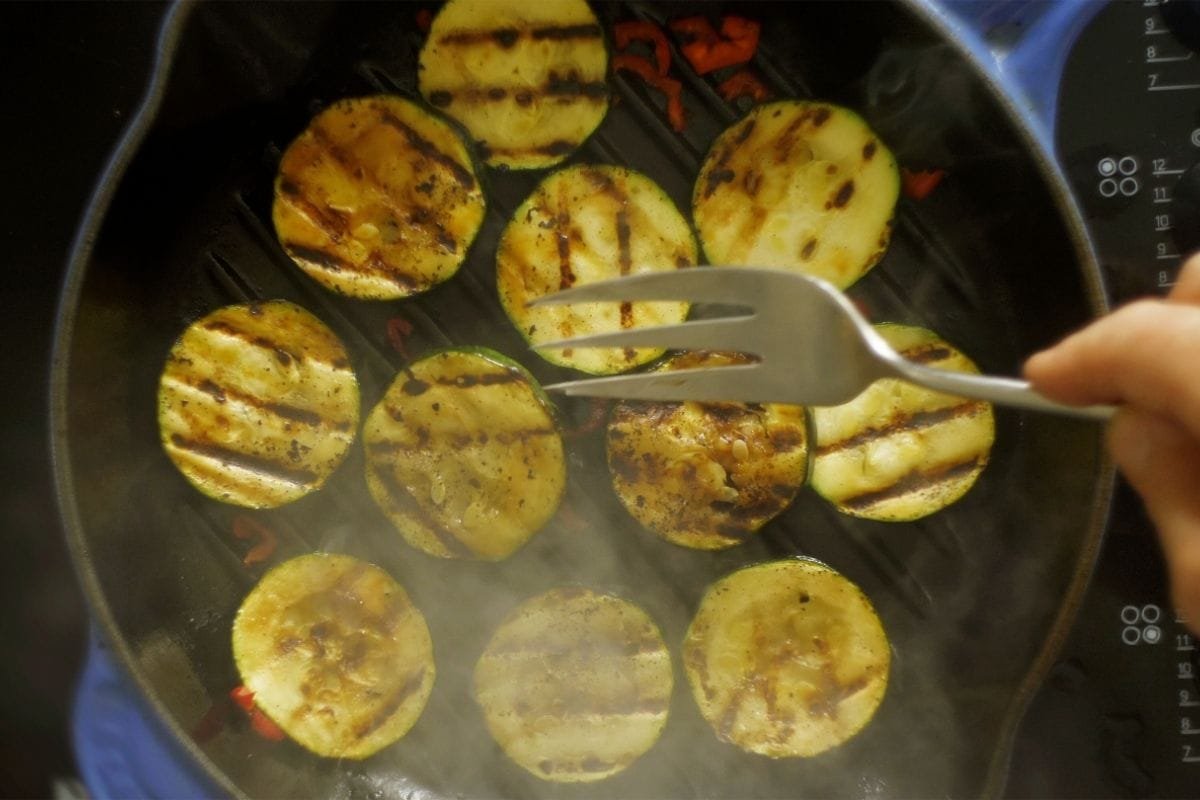 Courgettes are very nourishing and wholesome, not to mention packed with important nutrients. And with this recipe you can make them taste amazing.
All you really need to do is prep a little seasoning on them before cooking to get those awesome dark char lines. The seasoning includes fresh lemon juice, crushed garlic, and fresh mint leaves!
For the full recipe, simply click on this link.
Ok, so technically, this dish isn't cooked on a grill or barbecue, but it was worthy of a spot on my shortlist because it's a perfect side dish for a barbecue.
The recipe is pretty simple, you simply shred some carrots, red onion, and white cabbage, and mix it all up in some vegan yogurt and vegan mayonnaise, along with some curry powder and chopped apricots and sultanas to produce coronation slaw. Really fruity and good for you too!
For the full recipe, simply click on this link.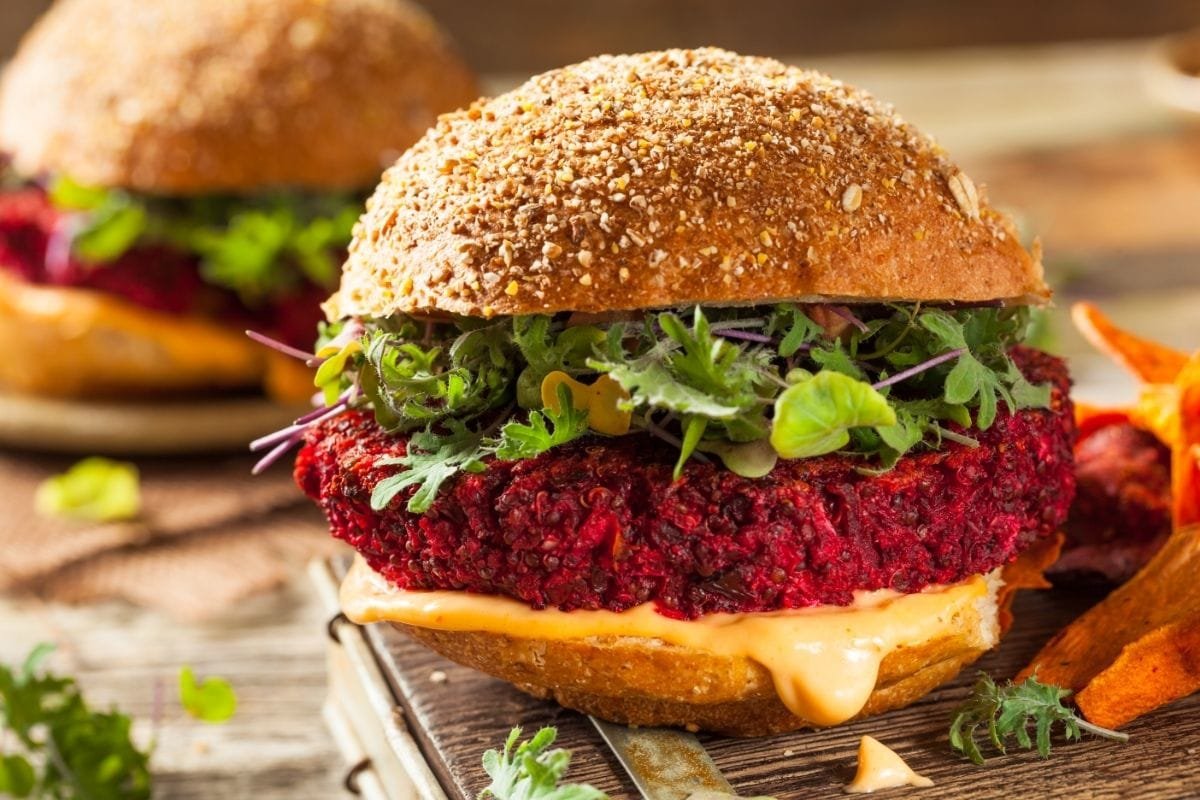 Hearty and healthy, these kidney bean burgers will go down a treat at your barbecue! What's more, they're colorful, crispy, and rich in both flavor and protein.
To make the patties, you will need such yummy ingredients as kidney beans (of course), yellow onion, walnuts, button mushrooms, a beet, chopped garlic, cumin powder, and soy sauce.
And they go great with spicy slaw or the vegan BBQ sauce I mentioned earlier!
For the full recipe, simply click on this link.
Final Thoughts
So, this selection should give you some great ideas to keep the vegans happy at your barbecue. There's just so much to try, it's hard to know where to start!
Enjoy!
Latest posts by Julian Wells
(see all)