Smoked shrimp is a truly unrivaled ingredient. Even saying 'smoked shrimp' makes our mouths water.
Although, you might assume that there are only so many things you can do with smoked shrimp. In fact, many people assume that smoked shrimp can only really be a side dish as a summer BBQ or get-together.
However, we want to let you know that this assumption couldn't be more wrong. Smoked shrimp is actually incredibly versatile.
From hearty pasta dishes to light salads, and everything in between, smoked shrimp can be the star of pretty much any plate. 
Don't believe us? Check out our 15 unique smoked shrimp recipes below. There's something for every occasion.
We just had to kick this list off with a classic smoked shrimp recipe. What could be more indulgent and delicious than a plate of smoky, buttery, garlicky shrimp?
This recipe in particular is perfect for summer get-togethers. 
You need just six ingredients to bring this dish to life. Yes… just six! In fact, there are also only six steps in the method too.
However, if you're new to smoking shrimp, don't worry – this recipe takes you through each step methodically. You can't go wrong! 
If you like your shrimp absolutely packed with flavor, then you will not be disappointed by this easy traeger smoked shrimp recipe.
In fact, this recipe is super customizable, so you can add as much spice as you desire! 
For this recipe, you just need a short list of very simple and fresh ingredients. It does suggest that you also purchase or make cocktail sauce.
This is listed as optional, however, we think it really brings the dish to life! 
Did you read that title in a (terrible) Australian accent too? No? Just us? Ok… Well, if you're a fan of BBQ during the summer months, you need to give this recipe a try.
It's perfect for large gatherings and will leave every guest wanting more! 
This recipe requires a few more ingredients than your average smoked shrimp recipe – but please, don't let that put you off! It is definitely worth the extra effort.
Make sure that you don't hold back with the fresh herbs (parsley, thyme, and cilantro). 
If you are a lover of smoked shrimp but require a quick and easy cooking process, this spicy smoked shrimp recipe has got you covered!
You need just four ingredients and 10 minutes of preparation time – what could be better than that? 
You do need to set aside two hours to cook the shrimp, however, you won't need to do anything to them during this time.
For the best results with this recipe, make sure that you use the medium to large-sized fresh shrimp. 
If you fancy putting a new twist on your classic smoked shrimp skewers, you should definitely check out these chili lime smoked shrimp and pineapple skewers.
The combination of the spicy smoked shrimp and the pineapple is mouth-wateringly good!
For this recipe, in particular, you will need to purchase raw large or jumbo-sized shrimp. If you can only get frozen shrimp, that's fine.
However, you will need to set time aside to thoroughly thaw the frozen shrimp before you cook them.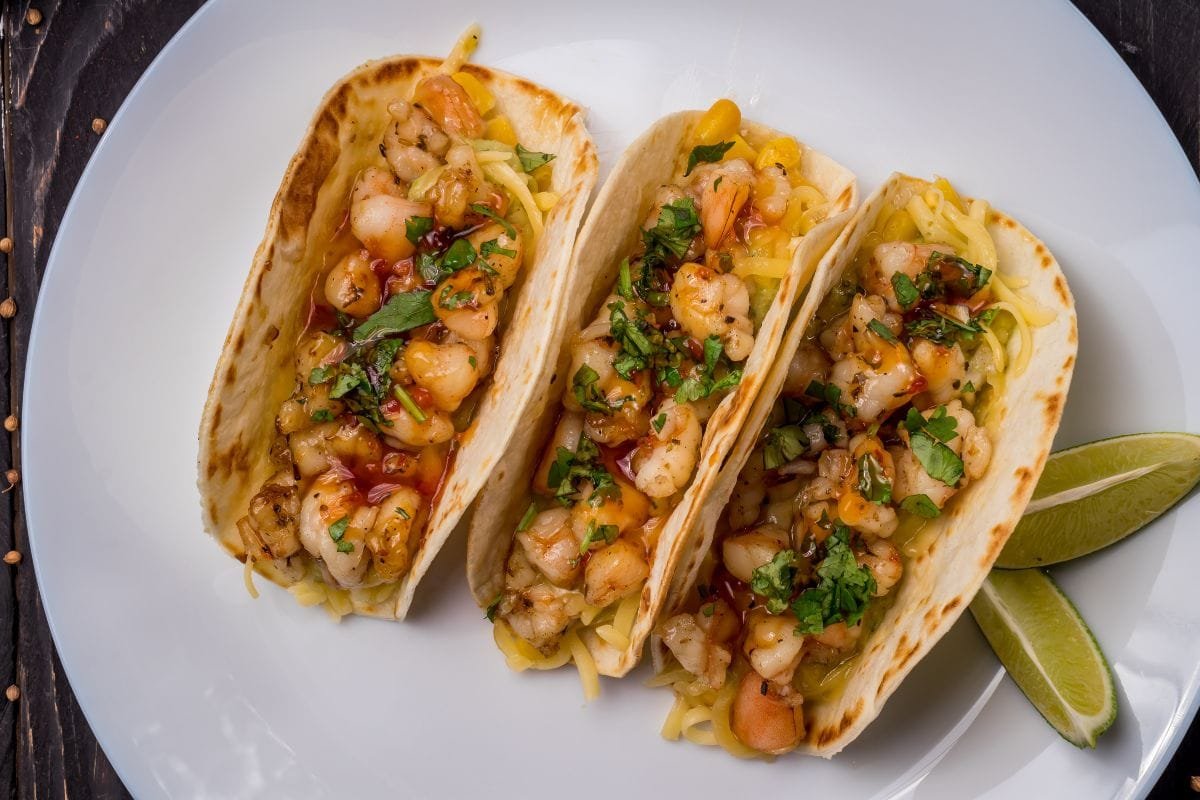 We love tacos. If you're looking for a delicious, quick, and fun weeknight meal that will certainly satisfy the whole family, these smoked shrimp tacos are sure to be a winner.
It's also super customizable, so feel free to add your own favorite toppings!
We admit that this recipe does require a fair amount of effort and ingredients. This is because it suggests that you make your own seasoning, chili, and pickled onions.
If you're up for the challenge we definitely recommend giving it all a go! 
Linguine might not be the first dish that comes to mind when you think of smoked shrimp. However, once you've tried this recipe, you'll be utterly obsessed with this combination!
This is a great recipe for a casual dinner party or even a Saturday family night. 
If you wanted to, you could throw some chicken into this pasta too, for an extra source of protein.
We also recommend that you make your own pesto for this dish – it is super quick and easy but the payoff is huge!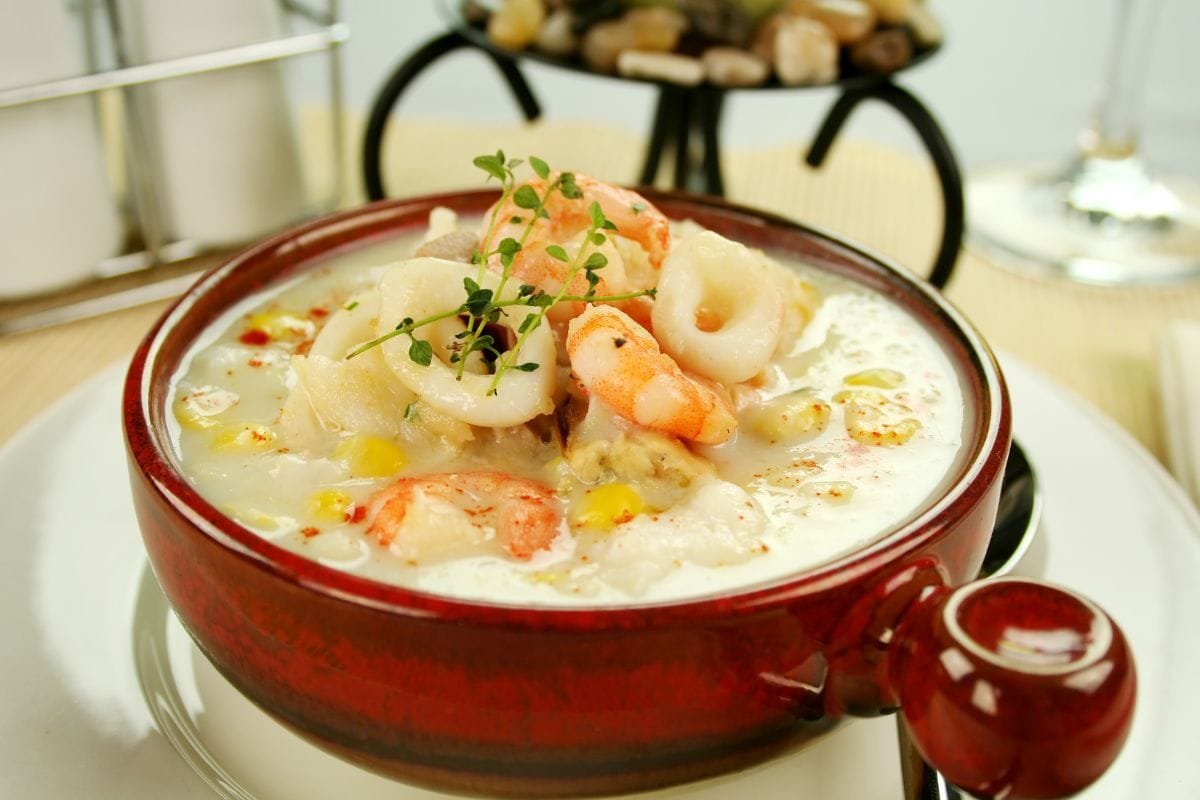 If you're a big chowder fan, you will absolutely love this dish. It puts a fun and smoky twist on a classic.
This is the perfect light and flavorful first course for a dinner party, although, be warned, all of your guests will be asking you for the recipe!
Unlike other smoked shrimp recipes, this one does take a bit longer and requires a few more steps. However, we promise you, it is definitely worth it.
The combination of smoked shrimp, smoked corn, and indulgent creamy broth is unrivaled. 
This is our go-to appetizer for gatherings and potlucks! These shrimp make for the most perfect finger food.
They are tender, smoky, perfectly cooked, and wrapped in a layer of crispy, salty bacon (is your mouth watering yet?). 
Whilst this recipe is very simple, it can be a little bit fiddly. We recommend using toothpicks to secure the bacon around the shrimp as they cook.
You can choose to take the tails off if you like, however, they do give something for your guests to hold onto. 
If you're looking for a fresh and light shrimp dish that has subtle but definite smoky undertones, you will absolutely love this smoked shrimp salad recipe.
You can put this dish together in under an hour, and it marks the perfect side dish for any occasion.
To save yourself some time, we recommend purchasing deveined and without the tails.
Also, the dressing for this salad is wonderfully light and fresh – but feel free to use this recipe with your favorite salad dressing if you would prefer. 
This recipe produces simple-looking shrimp, but as soon as you take a bite, you will be overwhelmed by the depth of the flavor.
If you are looking to impress some guests, or you simply want to challenge yourself, this is a great recipe for you. 
This recipe does have quite an impressive ingredients list, so make sure that you prepare adequately before giving this one a try!
It is worth the extra effort – the homemade Remoulade, in particular, is incredibly tasty. 
center>
If you're anything like us, there is nothing more comforting than a noodle soup during the colder months.
If this is the case, this tea-smoked shrimp noodle soup is certain to blow you away. It is the perfect revitalizing and cozy meal on a cold evening. 
There are quite a few steps in this recipe – but you'll be used to that if you've made noodle soups before!
To get that wonderful rich broth, you need to put in a lot of love and care! For the best results, we love using flat rice noodles with this particular dish. 
You're likely thinking that the combination of smoked shrimp, pasta, salad, and chipotle is rather confused. 
We thought so too until we tried this recipe. Trust us, if you make this dish at a summer gathering, it will disappear in no time at all. 
The best part about this recipe is just how customizable it is. If you like your food with an extra hot kick, be sure to make the dressing with more spice! If you prefer your pasta salads to be more salad than pasta, then adjust the amounts accordingly!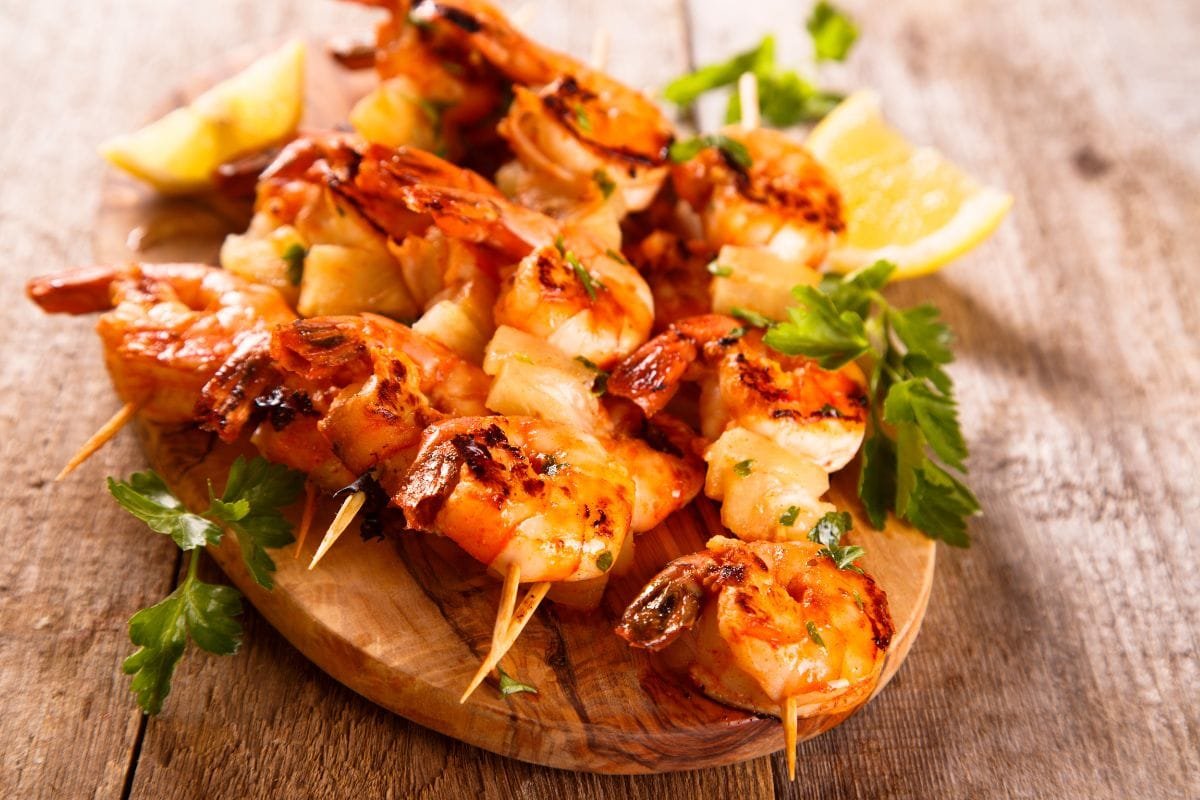 You can't go wrong with smoked shrimp skewers. If you're catering to a group of people who like simple but tasty food, this recipe is perfect for you.
As a bonus, this recipe is Whole30 and Paleo-friendly! 
For this recipe, you need just 6 ingredients. It recommends using the Primal Kitchen Italian Dressing, however, if you can't get your hands on this, any Italian-style vinaigrette will do the job wonderfully.
Finally, we couldn't finish this list without including a super simple, super quick recipe that can be made on even the busiest of weeknight evenings.
You can enjoy these alone as a side dish, or you can add these BBQ shrimp to your salads or tacos! 
This recipe is everything you need it to be. It is super quick, fairly economical, healthy, and wonderfully versatile.
Technically, you need just three ingredients – BBQ sauce, shrimp, and oil. However, we recommend making your own BBQ sauce if you have the time. 
Summary
You might just associate smoked shrimp with summer BBQs. However, we think that this list has proven just how versatile smoked shrimp really is!
Whether you fancy a tasty weeknight pasta dish or super simple finger food, smoked shrimp is the perfect main ingredient! We hope that this list has inspired you to get cooking!
Latest posts by Julian Wells
(see all)