As opposed to their rival, the chicken breast, chicken thighs are juicy, tender, and bursting with flavor!
This makes them an excellent option for grilling outside during the summer months. Just toss them with some delicious marinades and your favorite vegetables, and you have got yourself a healthy, summer meal.
This article will provide you with a list of 15 mouth-watering, grilled chicken recipes that involve all kinds of marinades and rubs, so be ready to get your hands dirty!
This recipe uses the perfect combination of spices for a delicious summer favorite. An extra tip is if you use thighs with the skin on (we highly recommend!), then place them over direct heat for the last few minutes of cooking time.
This will crisp up that skin, leaving you with a lovely texture to bite into.
For the marinade, you are going to mix together plain yogurt, cloves, ginger, paprika, cumin, garlic, salt, pepper, and cinnamon. This will be rubbed into your chicken and left overnight.
The result is a delicious texture with a vibrant taste from all the spices!
Summer and grilling outside just call for foods that you need to eat with your hands. These chicken thigh sliders are delicious and fun to eat. They're also perfect for any game days that may be going on.
Boneless chicken thighs are highly recommended for this recipe. Firstly, you are going to season your thighs with paprika, salt, pepper, and cayenne pepper, and place them on the grill along with your apricots.
Once the chicken is cooked, you're going to shred it with a fork, place your apricots into a blender with some mustard and garlic and blend until smooth.
Then, once your buns have been warmed (this can be done in a microwave or on the grill), assemble your sliders and enjoy!
These rusty chicken thighs will wow your guests. The marinade combines maple syrup, mayonnaise, garlic, Asian Chile pepper sauce, soy sauce, and rice vinegar.
All you need to do is let this marinade seep its way into the chicken for around 3 hours and then grill outside for approximately 15 minutes until cooked.
Garnish with a few lime wedges, and serve with some nice and your favorite veggies!
Kabobs are perfect for outdoor grilling, and they are a very simple dish. Essentially, they are meat on a stick. You can use all kinds of meat, even fish and veggies, but this recipe uses deliciously marinated chicken thighs for its kabobs.
It is recommended that you use metal skewers with wooden handles as they are much easier to use, and they're also completely reusable!
You'll begin by making saltwater brine for your chicken and soaking the thighs in it for around 3 hours. Then, for the marinade, you'll use blended onions, plain yogurt, lemon juice, garlic powder, cumin, salt, and pepper.
Let your chicken marinade in this overnight, and add some saffron water (instructions in recipe link), which will make the chicken turn a wonderful yellow color.
Cut the chicken into bite-sized pieces, thread them onto the skewers, and grill to perfection!
Although this recipe calls for frying the chicken thighs, it'll still work wonderfully well if you were to grill them.
This recipe involves marinating your chicken in a delicious garlicky sauce that's sweet, sticky, and spicy, with a pang of citrus that'll have you constantly wanting more.
The chicken is prepared with a Sriracha seasoning that includes, crushed red pepper flakes, olive oil, and dry Sriracha seasoning.
The chicken then gets drizzled over with a delicious sauce that is made with garlic, soy sauce, honey, lime juice, salt, and pepper.
This grilled chicken thigh recipe is both refreshing and tasty, with a sweet citrus flavor. The chicken is marinated with cayenne pepper, lime juice, honey, salt, oil and cilantro.
It is then brushed to perfection with a delicious glaze, containing honey, lime juice, and more cilantro!
This Filipino dish is super easy to whip up, made with soy sauce, vinegar, and garlic. The chicken in this recipe is made in a pot along with the ingredients for the marinade, but you can easily mix all the ingredients together and place the chicken on the grill!
These skewers are easy to make, and fun to eat! They pack a delicious flavor from the combination of lemon and the different herbs and spices used!
Boneless chicken thighs are recommended for this recipe.
This Asian grilled chicken recipe will make you the hostess with the mostess – you'll never want to order take-out ever again!
The marinade is delicious, and all the flavors come alive as you grill the chicken on medium-low heat. Enjoy!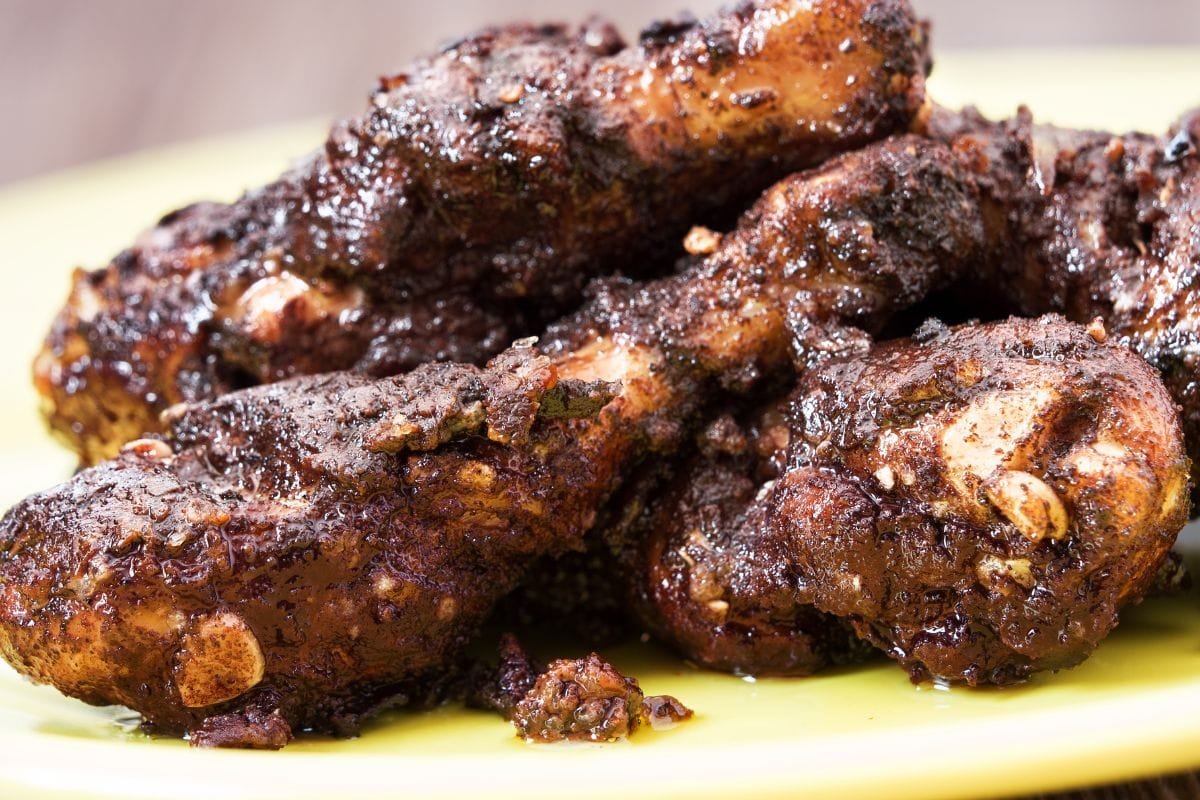 This recipe is for those who like a bit of spice! The marinade contains green onions, ginger, jalapeño peppers, lime juice, soy sauce, garlic, cinnamon, and ground allspice.
The chicken is marinated overnight before being grilled to perfection.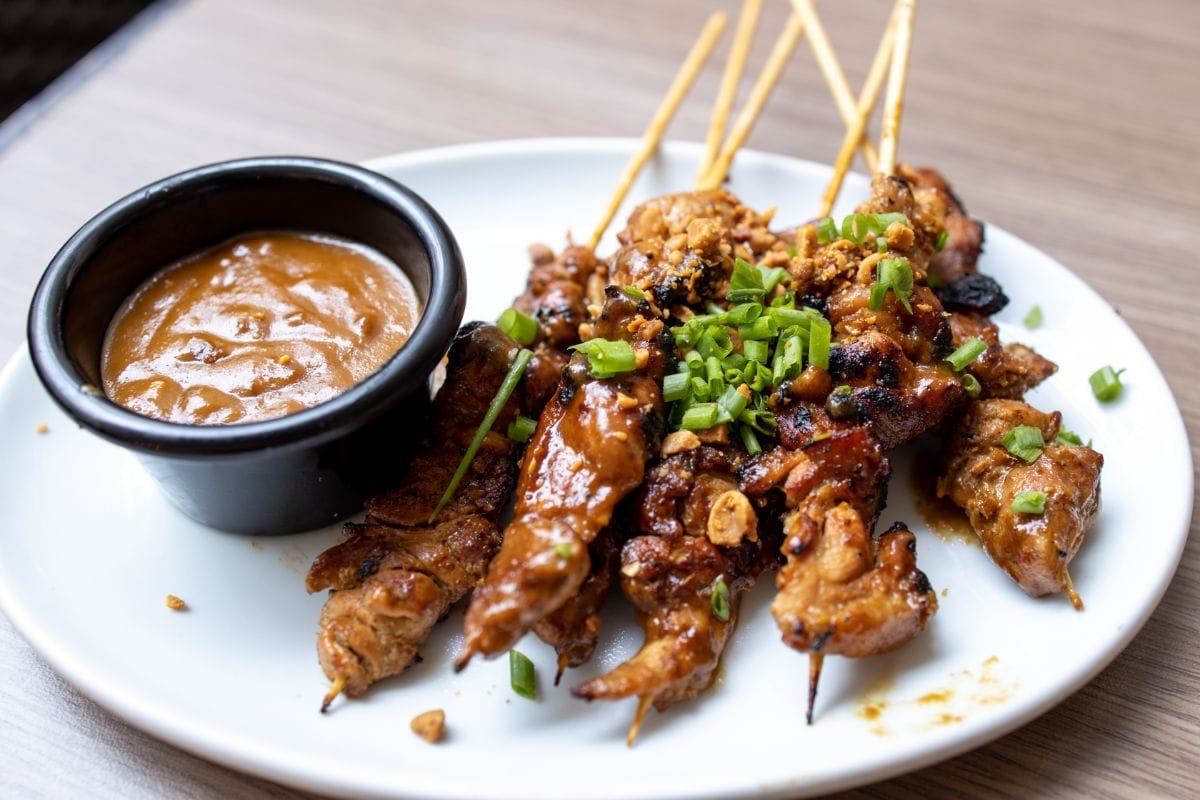 Peanut sauce and chicken are a match made in heaven, and due to the delicious taste of the peanut sauce, the chicken is marinated very simply with just some garlic, ginger, and fish sauce.
The peanut sauce is made with peanut butter, shallots, garlic, ginger, Chile peppers, coconut milk, soy sauce, and brown sugar.
Once you make this sauce, you'll want it as a side sauce to all of your dishes!
Burrito bowls are the perfect healthy meal. They're filled with carbs, protein, and veggies, as well as being packed with flavor!
This burrito bowl is made with marinated chili lime chicken thighs that have been grilled to delicious perfection.
The base of the bowl is rice and black beans, and fresh avocado and Pico de Gallo are added on top along with the chicken.
The combination of flavors is truly divine, and this meal will fill you up and provide you with all the nutrients you need!
While this recipe uses a whole chicken and roasts it, you can definitely use the same ingredients to grill your chicken thighs.
Interestingly, along with garlic powder, pepper, chili powder, salt, paprika, tarragon, brown sugar, and olive oil, this recipe uses beer in its marinade.
Using beer makes the chicken extremely tender and juicy, and it also allows the spices and herbs to really soak into the meat. This, in turn, gives it a lot more flavor.
You should also ensure that you are using chicken thighs with skin, as the brown sugar will really work to caramelize that skin, making it sweet and crispy.
Another plus is that it doesn't matter what kind of beer you are using, as the result will always be the same!
Sometimes during the summer, you just want a light lunch that isn't too heavy for the heat. That's where these delicious grilled buffalo chicken wraps come into play!
These wraps are packed with flavor and protein, so they'll satisfy your tummy and fill you up.
This recipe uses a skillet to cook the chicken along with the buffalo sauce, but you can marinate the chicken in buffalo sauce and then grill it to perfection!
Once this is done, you are to shred your chicken and add some cheese while it is still warm, so it melts.
Then, assemble your wraps by adding some celery before scooping in some of your cheesy buffalo chicken. The celery works well at balancing out the spice in the buffalo sauce, while also adding a delicious crunch!
This teriyaki chicken recipe is tender and sweet, the perfect option for your summer grilling nights.
This homemade teriyaki sauce is made with sesame oil, cornstarch, soy sauce, garlic powder, brown sugar, and water. While you can find these pre-made in grocery stores, making them yourself makes it all the more special.
The chicken is then marinated in this sauce, along with lemon juice green onions and sesame seeds.
This dish is best served with some rice, and green onions sprinkled on top. This one will really impress your guests and yourself!
Final Thoughts
To conclude, each of these recipes is tender, juicy, and delicious, just as chicken thighs are meant to be.
This part of the chicken already has a wonderful flavor, so anything you add to them will just make them even better.
From sticky Asian recipes to light healthy lunches, this article has provided you with an extensive list of an array of different kinds of grilled chicken thigh recipes.
Each recipe is very simple, and also fun to make, as you can get your hands dirty with all the different kinds of marinades, before slamming the chicken onto the grill!
Latest posts by Tommy Hall
(see all)