When we think of grilling we often think about spare ribs, brisket, and other land animals that have plenty of taste and tenderness.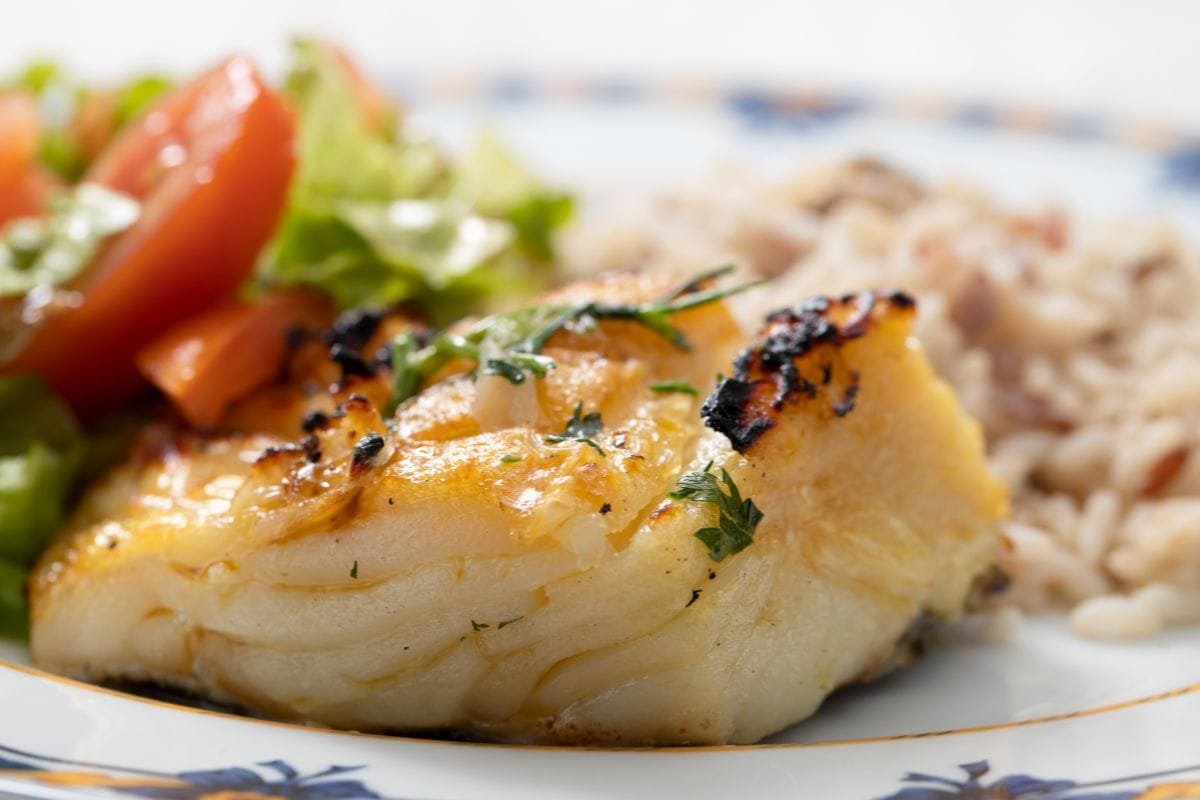 Yet, seafood and fish often go overlooked as a viable grilling option, and so we are going to provide you with our 15 tastiest grilled cod recipes that everyone can enjoy.
There is a mixture of recipes here, suitable for a wide range of dieters, including those that are following a ketogenic diet or paleo diet. And of course, all of them are healthy and delicious!
Why Grill Cod?
Cod is a super starter fish for those that are not accustomed to eating fish on a regular basis, all for those that do not enjoy an intense fishy flavor.
It's quite mild and will not insult those that aren't used to the taste.
The one downside to grilled cod is that if cooked without extras such as herbs, spices, or sauces, then it can be quite bland and off-putting for those that like a bit of excitement in their food.
Another good reason to grill cod is that it is healthier for you! Cod is one of the leaner fishes and contains fewer calories than some of the fattier filets such as salmon or mackerel.
It's also protein, which is ideal for those that are looking to manage their waistline or lose a bit of weight.
Grilling cod, in particular, is a great idea that has a charred taste which a lot of people enjoy, especially in the summer months.
That means it's up to you to increase the flavor and make it a lot more interesting. The good news is that our recipes below have an intense flavor that won't take a long time to prepare or cook.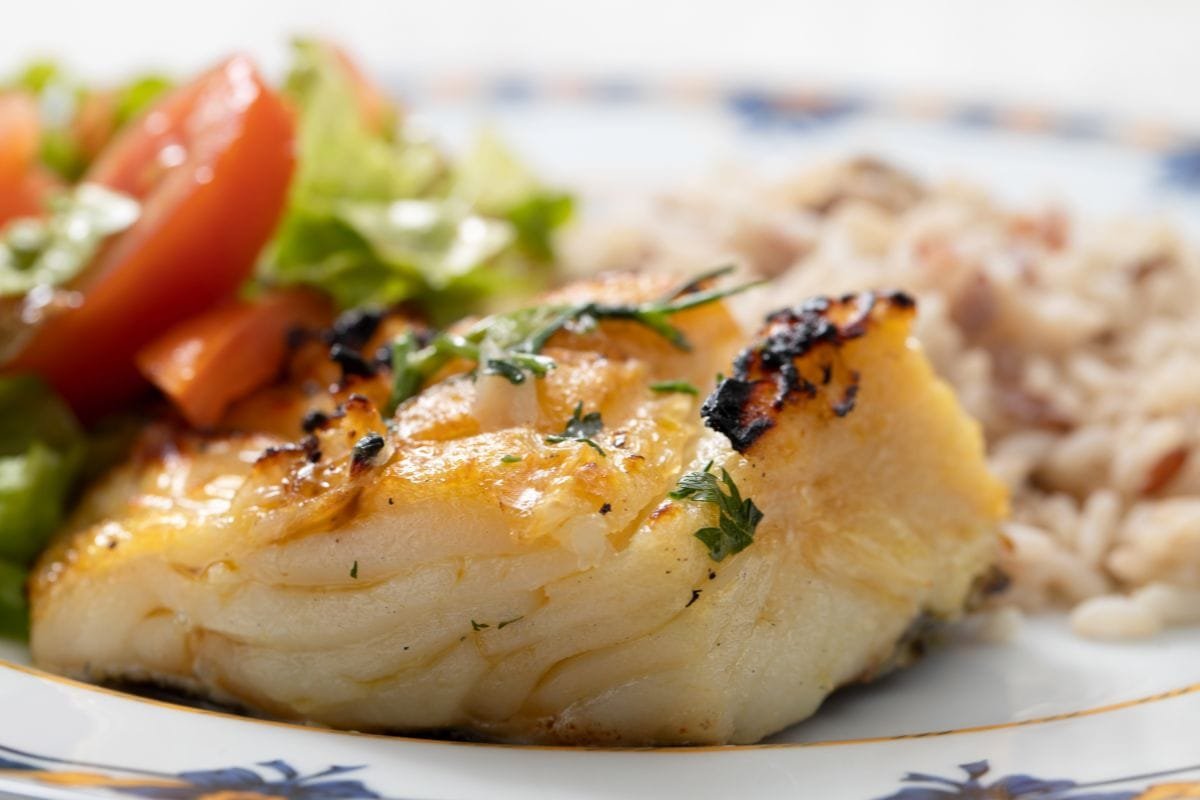 Not many people know how to properly grill cod, and this recipe will walk you through the easy steps so that you no longer have to rely on the oven to cook your card.
This is the best place to start for those that want to dip their toes into this world and enjoy fish that has that classic grill mark.
Two of our favorite combinations of ingredients are lemon and garlic, and this recipe features a charred lemon and garlic oil Twist that brings moisture and intense flavor to this flaky fish.
And at only 269 calories per serving, you're in for a light treat that is best served with a side salad of vegetables.
If you follow some of our other posts, you'll know that we are a fan of wrapping items in foil when grilling.
This is no different when grilling fish, and it's the perfect time to trap in the moisture and enjoy plenty of healthy ingredients with this recipe, such as parsley, lemon, and onions to season this to perfection for everyone to enjoy.
The perfectly grilled cod should always be served with the perfect source, and this white wine garlic butter sauce is very simple to make and is super delicious and drizzled over a good bit of cod.
You can serve this up with asparagus and tomatoes, or a portion of potatoes to really make this a meal to remember.
Try this light summer dish on for size that doesn't take long to cook, and even less time to prepare.
This recipe is light, tangy, and buttery, and with only using a few recipes you'll be enjoying a healthy high-protein meal in less than 15 minutes. Who said eating healthy had to take a long time?
One of the healthiest diets that have been heavily researched is the Mediterranean diet: and this simple Spice rub and basil sauce concoction can take a crispy grilled cod to the next level.
We usually recommend that you serve grilled cod with some vegetables or a side salad, but try gyro-style, which is wrapped in warm pita and loaded with plenty of healthy vegetables. Delicious.
If you are a fan of seasoning your food, then you should try blackened.cod which has a tasty and tender bite in contrast to the fluffy and flaky white fish.
This recipe will contain a number of herbs and spices and will suit those that like a bit of a kick to their meals. you'll know you've done it right if the seasoning gets smoky when cooked inside!
For an easy weeknight meal, that is suitable for the keto and paleo dieter, this low-carb Cajun grilled cod is tasty and nourishing and could be the next staple in your weekly meal plan.
This recipe is smoky and spicy, and if served with pepper slaw you also add in some tanginess and creaminess to balance out the heat of the cajun spice.
Here's a classic Spanish dish that can be enjoyed in many different ways, but our favorite is to serve this as a weeknight cuisine for the whole family to enjoy.
It's a classic take on the Spanish patatas bravas, and if served with smoky tomato sauce, you can add a spicy side dish for even more flavor that is guaranteed to entertain your taste buds.
This is a very versatile recipe that includes grilled cod, but can as can be substituted for any type of white fish such as haddock or sole.
Packed with healthy seasonal vegetables, this is a super healthy Option that will not take you long to prepare and cook, and is light on the waistline, too.
Rosemary is a super seasoner, and one of my favorite herbs to add to dishes. It gives a recipe plenty of flavors and provides more nutrition that we are more than happy to accommodate.
This 20-minute meal is perfect for any night of the week and can be enjoyed as a healthy lunch or dinner.
If you are looking for a grilled cod recipe with fantastic flavor and a buttery texture, this onion and white wine combination with butter will appeal to all kinds of pallets.
The complex sauce with plenty of character is delicious to taste, and what's even better is that it is simple to make. Serve with grilled potatoes or vegetables for a well-balanced meal.
Whilst grilled cod is an easy and healthy recipe to make, it's all about adding in the extras that give it the character that separates it from other recipes.
For those that love their salsa, this is a perfect option that can add the ideal amount of heat and herb flavor without ruining a dish. Serve with grilled asparagus and don't forget the wine!
Here's the recipe for those that enjoy cooking and a bit more of a challenge; This French-inspired dish causes fluffy potatoes to produce a beautiful finish that has plenty of Flavor with tomato and capers.
With plenty of bite and plenty of flavors, we'll make this a popular choice for the average chef in our audience.
We finish off a list with one of the most fantastic combinations we have ever seen with grilled cod, in this fantastically light and healthy meal made with chimichurri sauce.
Chimichurri sauce indeed makes everything taste better, and it's no different with grilled cod: just make sure there is enough for everyone to go around!
Final Thoughts
Grilled cod is an underrated dish, and it's a shame that not many people go with this cooking option as it can intensify the flavor of an often misunderstood fish.
As long as you follow the recipe steps, you won't run into any problems and can expand your culinary horizons.
With the recipes above, there are plenty of ways to make this dish interesting that will accommodate many different palates and many different flavors.
Latest posts by Tommy Hall
(see all)