Lobster is a delicacy around the world, which is often reflected in the price of the meat.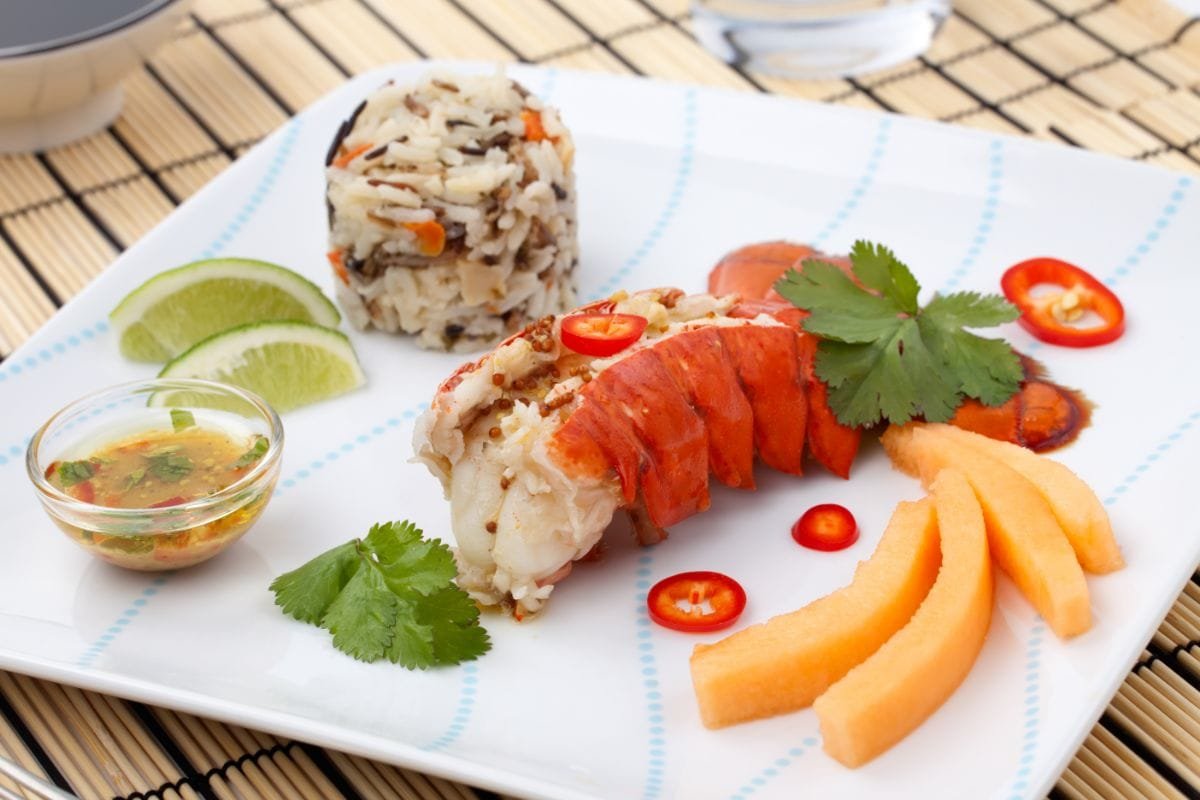 Cooking lobster tails on the grill can add a delightful smoky flavor however you may need to watch the grilling space if you're trying to fit in a lot of different seafood.
Lobster tails can be a great addition to a big family cook-out or special occasion, as let's be honest there are only so many burgers you can eat before you start to get bored of them during the summer season.
It's a common misconception that lobster is always expensive. Be sure to check your local grocery store or fishmonger as they usually have sales on different meats and fish making them more affordable.
If you're willing to shop around you can get a great price.
It's worth mentioning that the majority of these recipes detail how to properly de-shell a lobster tail and prepare it for cooking.
If you'd like to do this the steps are always indicated at the top of the recipe. Otherwise, most fishmongers or grocery stores will sell de-shelled lobster tails which are ready to cook, therefore you can skip over these steps.
Here we've included the best lobster tail recipes to suit all tastes.
Although this recipe details how to prepare a lobster, you can easily buy lobster tails without the shell on if you prefer.
Using a few simple herbs and spices, you can make a great side dish to accompany your barbeque. The recipe calls for the tails to be baked in the oven so you'll have plenty of room left on the grill.
Broiling for those of you who haven't heard of it refers to the process of exposing food, such as meat or fish directly to a boiling hot pan of water at around 550℉.
This method will give your lobster a quick sear, it shouldn't take longer than 10 minutes depending on the size of the tails. The garlic butter sauce is brushed on top before broiling to add flavor and stop the tails from drying out.
This is a perfect beginner recipe for those who are a little nervous about cooking lobster at home. Don't worry, it's much easier than you think!
Everyone needs an easy grilling recipe for barbeque season. You can create a tasty butter mixture to spread onto the tails with a few simple ingredients.
For best results use a meat thermometer to ensure the lobster is safe to eat and cooked to perfection. The recommended temperature is 140℉.
Before brushing the lobster with the delicious lemon, chilli and rosemary butter you char the lobster tails on the grill to sear in some of their sweet, natural flavor.
This recipe requires you to spend a little more time attending to the tails as you need to re-brush every few minutes when you flip the lobster over to ensure a tender and delicious coating is achieved.
If you're wanting to impress your guests with a twist on a restaurant standard dish, then try this one out on the grill.
Lobster thermidor is a world-renowned French dish combining egg yolk, brandy and lobster meat. Despite the recipe calling for the use of certain French ingredients, they can be substituted for the counterparts you find in the grocery store.
The dish is packed full of heat from the chilli butter alongside a perfect combination of herbs and spices.
Mixing the sweetness of the grilled corn and the sourness of the lime in the salad is a great summertime treat and you can be sure it will impress your guests.
The recipe is relatively long and sometimes fiddly, so planning ahead is advised when it comes to the accompaniments. However, this can be altered to still use the chilli butter but serve with a simple side salad if time is short.
The tangy charred lemon is a mouthwatering way to add some extra flavor to your lobster. Wooden skewers are needed for this recipe, which needs to be soaked whilst you're firing up the grill.
Once the tails are prepared, you can thread them onto the skewers. In contrast to many of the other dishes here, cheese is added to the buttery lobster tails for extra indulgence.
Cooking lobster on the grill gives it a wonderful smoky flavor. Drawn butter otherwise known as melted butter is the perfect accompaniment to lobster and is widely used as a dipping sauce, as it is here.
You can find a drawn butter anywhere online, but here is one that accompanies this dish.
Due to the large amount of butter in this recipe, it also contains a lot of fat which should be taken into account as part of a healthy balanced diet.
Pesto is quick and easy to make just by putting all the ingredients in a food processor and blending. Adjust this to your own liking.
This recipe uses toasted pepitas which is a type of pumpkin seed added to the pesto. If you can't find these in the grocery store try substituting them for pine nuts.
Paste the pesto onto the fleshly tail half and place it under the grill for 10 minutes or at least until the lobster reaches 140℉. Serve with a citrus fruit of your choice and some fresh flat-leaf parsley.
A light and refreshing summer salad is a great way to cool off and a perfect dinner for a warm day. The lobster is coated in honey, lemon juice, tarragon and shallot blend to which butter and oil are added to help stick to the lobster surface.
The salad is composed of grapefruit, avocado, mango and spinach which pairs perfectly with the light and tender lobster tail for a fantastic meal.
If you're looking for a low-calorie side dish for your barbeque try this gourmet dish. This is a great recipe as it only uses five ingredients so won't take any time away from your other prep.
Once the lobster tails are prepared (if you've bought ones with shells) they are combined with a mixture of orange rind, butter, mustard and dill for an enhanced tangy flavor.
An Asian-inspired twist on your usual barbeque favorite makes for a unique dish to serve to your foodie friends. This low-carb dish uses a few common Asian-style ingredients such as Miso paste and Sriracha; which you may already have at home.
If not these can easily be found in your local Asian supermarket. The paste is added to the lobster tails after they are cooked rather than before, with a sprinkle of green onions.
These buttery lobster tails will melt in your mouth. Cajun-inspired food is known for its comforting effect, spice and heartiness, making it perfect for putting on the grill.
You can easily find cajun seasoning in your local grocery store, but if you're feeling particularly creative why not try making your own. When grilling meat such as this, keeping the lid closed will keep in the moisture so it will melt in your mouth.
Citrus elements are used a lot to compliment lobster. Rock or spiny lobsters are preferred for this recipe. A simple citrus sauce is a great blend of sweet and spicy used to accompany the tails.
You can use traditional Mexican hot sauces such as Cholula, however, any hot sauce you already have at home is fine. This is a great sharing dish, served with warm tortillas and lime wedges for any extra citrus punch.
A perfect date night dish is this buttery lobster tail recipe is a hassle-free way to spice up your palette and your evening. Using grapeseed or canola oil here is essential to stop the lobster from burning as these oils have a higher smoke point.
They are relatively inexpensive to buy and easily found in the grocery store. This dish pairs well with lemon rice or a cucumber, basil and watermelon salad.
In Summary
These are the best lobster tail recipes to spice up your summer barbeque or even just a weeknight dinner if you fancy a change.
Most of these recipes are very easy and simple to do so don't be put off by the thought of having to prepare a whole lobster. For those who are lactose intolerant, you can easily replace butter with oil to create a tasty marinade.
Latest posts by Tommy Hall
(see all)