What are the biggest worries of preparing food for either a small gathering, such as a family or friends, or a larger group, such as a barbecue or dinner event?
It could be one of the most stressful times, as you're constantly worrying about all the variables with the food.
And one of the biggest concerns that every event planner goes through, is whether they have enough food to cater to everyone.
This becomes even more so when thinking about foods such as ribs, as some people like to enjoy one or two, whereas others can go back the whole rack to themselves.
So how do you find the middle ground and cater to everyone?
Today we will go through a quick guideline you can use to ensure your guests won't go hungry and they are fully satisfied.
How Many Ribs Should You Cook?
Our first recommendation is that you plan how many ribs you will be eating per person, as opposed to just guessing per a large number.
This will make things a lot easier and take a lot of stress off your shoulders, as it's easier to plan per person than per group.
With that in mind, we recommend that if you are serving up a multitude of dishes, you allow for around 3 to 4 spare ribs for each individual.
If you are having a rib-specific event, then you might wish to double this number and increase it to around 4 to 8.
You should also take into consideration how large the ribs are.
If you are serving up baby back ribs that are going to be smaller than spares, then take this 3 to 4 number and increase it to 5 to 6 ribs per person.
As there are around 10 to 12 ribs in a rack, this equates to around 1 rack for 2 to 4 people, and a rack of baby back ribs can serve around 2 people.
What Other Things Should I Consider?
Other than how many ribs per person you need to serve, there are plenty of other things to consider when planning an event that involves ribs.
Here are some of the key questions you should take into consideration before the big event.
How Many Side Dishes Will I Need Per Person?
The good news is that side dishes are not as vital as the main entree, and you can have a little bit more flexibility with how many side dishes to serve.
A good rule of thumb is that if you have a small gathering of under 6 guests, then you should aim for around 3 sides.
Try to mix up the sides by having at least one start, one vegetable dish, and a bright salad which will provide plenty of propriety for guests, or friends and family.
If you are having around 7 to 10 guests, then you want to aim for around 4 side dishes.
Using the wall above, the fourth dish can be a side of your choosing.
You can be as creative as possible, or keep things simple and double down on a side dish favorite.
If you're having more than 10 guests, then we recommend that you have 5 side dishes.
This will cater to everyone's needs, and make sure that no one is left out; especially any guests that have a dietary requirement such as an allergy or food they cannot consume on a restrictive diet.
Will There Be Dessert?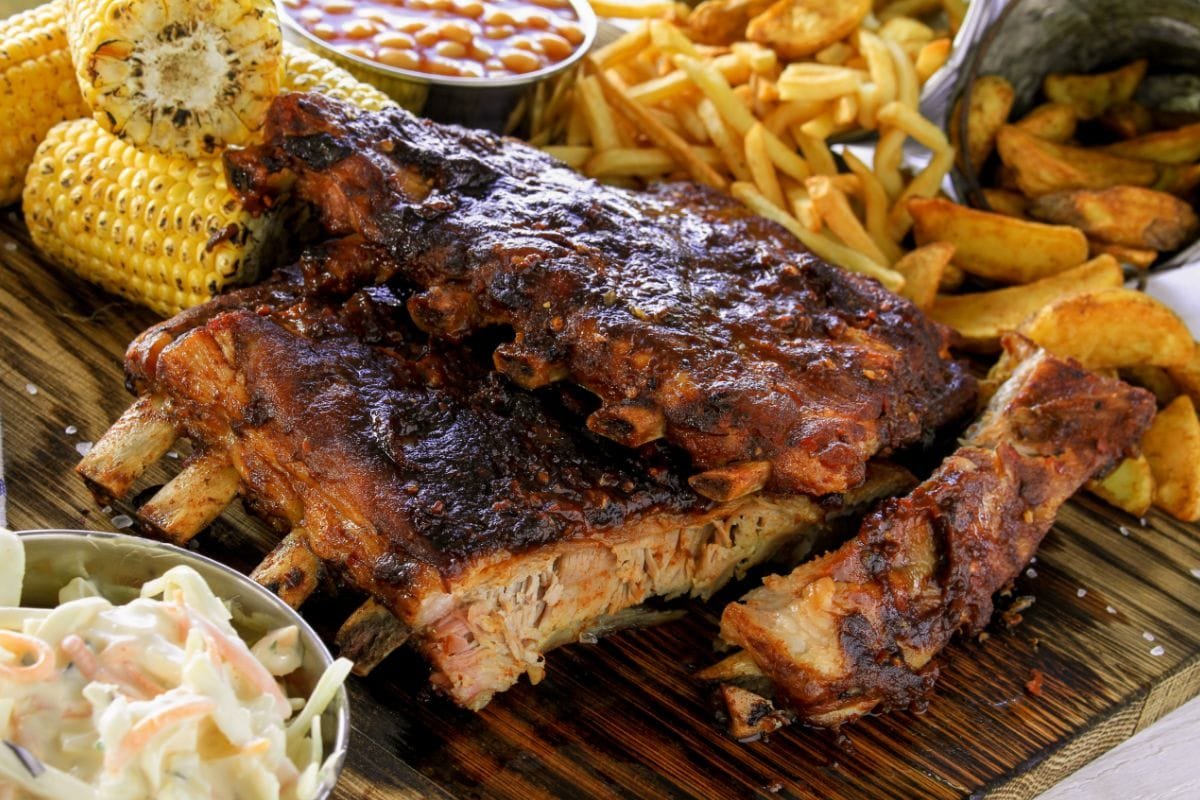 This will be down to your personal preference, and because a dessert can bring dinner to its natural conclusion, it's often recommended that there is some form of dessert to finish the meal.
A good rule of thumb is to provide 1 1/2 servings of dessert per person.
For example, if you have 6 guests, you may want to provide a cake or around 12-18 cookies.
Will There Be Alcohol?
Is there a party without alcohol?
That's a debatable topic, but if you're going to be entertaining adults in a social setting, then this is an important question to consider, as those that drink tend to overeat by around 15 to 20%.
For a more conservative style party, then you may want to add on around 10% to your spare rib quota, and for a more wild get-together, you may want to talk out of 20% extra spare ribs just to avoid any pics.
Which begs the question: how much alcohol should you serve?
The right amount of alcohol will largely depend upon the mood and occasion, but if we're serving beer and wine, then we recommend two crates of beer per 5 guests and around 3 to 4 bottles of wine.
How To Keep Ribs Warm At A Large Gathering
One of the logistical questions you're going to need to answer is what to do with the food that has already been cooked, but not yet eaten.
Barbecuing food for a large gathering can be difficult to pull off, especially if you are limited by grill size and are unable to cook all the meat at a single time.
Luckily there is a way to ensure that your cooked foods are kept warm when you're cooking the next batch of ribs.
For starters, you need to fill up a regular, well-insulated cooler with hot water.
We would recommend having enough for around 2-3 gallons. Simply shut the lid and heat up for around 30 to 45 minutes.
Next, you need to remove the water and then place a clean towel on the bottom of the cooler.
Make sure to set a disposable tray on top of the towel.
When your ribs have been cooked, wrap them up in foil and place them in the aluminum tray.
You can also place another towel on top of your wrapped ribs, and then close the lid and keep them covered until they are ready to be eaten.
It's best to avoid leaving the ribs exposed for a long period, and if you are going to leave them out for a while, we would leave them out no longer than 1-hour.
If you have a meat thermometer, you can keep an eye on the internal temperature of the ribs to ensure that they do not drop too low.
Barbecue Planning Tips
If you're making ribs then you're likely going to be using a barbecue.
There are a few more factors to consider when using this method of cooking.
The first and most obvious tip is to make sure that all of the preparation has been done the night before, and you can begin to trim your meats and prepare sides that can be stored overnight in a refrigerator.
It is also worth marinating your meat and applying rubs the day before, should you be using these with your ribs.
Another tip is to set your food out in a buffet style, where you line up all of your sides first before your main meal so that your guests can fill up their plates quicker before they get to the ribs.
If you're going to be serving other secondary meats, such as chicken and sausage, one tip is to cut them up into bite-size pieces, which will encourage people to eat more of the sides, which should make the ribs go a little further in terms of quantity.
Final Thoughts
Prepare to fail and fail to prepare is one of the most important mantras of planning an event with food, you should ensure that advanced preparations are made to guarantee a successful party.
As long as you consider our guidelines, you will have plenty of food to keep all of your guests happy and full.
You can also follow the guidelines for how many side dishes to prepare, and how much alcohol to serve so that you won't have to make any further guesswork.
Latest posts by Tommy Hall
(see all)