One of the great things about having a barbecue is that if you get creative, you can make almost any kind of dish that you want for one.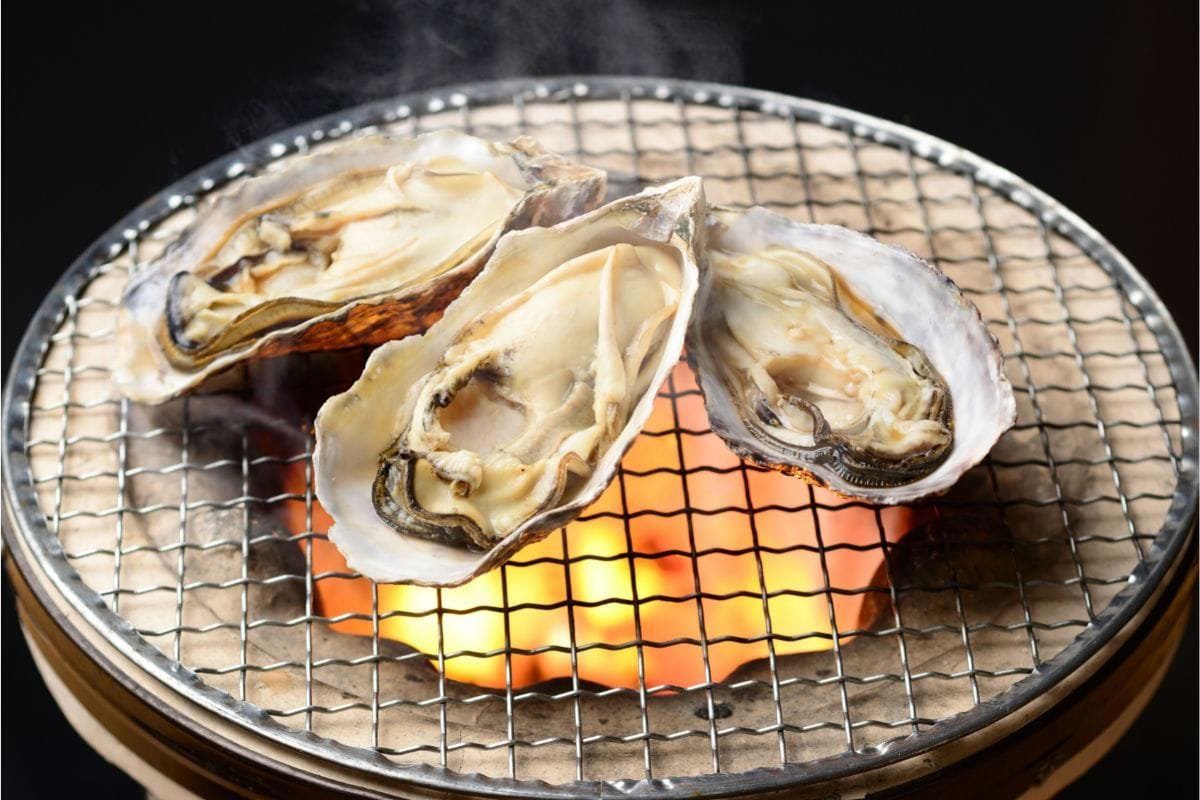 As well as the classics like grilled steak, burgers or hot dogs, you can create a whole buffet of wonderful treats and side dishes for going with them. 
If you're a fan of oysters, but you haven't tried them grilled over an open flame, then you are missing out.
There are lots of ways to cook these delicious little mollusks, and in this article we will be showing you 15 ways to prepare grilled oysters for your next barbecue. 
For our first recipe, we thought we would start with a simple method for cooking regular grilled oysters.
All you need is some fresh oysters and three other ingredients to make these succulent and delightful little entrées for your next barbecue.
The best part is that two of these ingredients are completely optional and are only there for flavoring your dish.
You can eat them by themselves, and they make a great thing for your guests to nibble on while they are waiting for you to finish the main course. 
There are lots of ways that you can flavor grilled oysters, and this recipe uses crushed garlic cloves. If you are a fan of garlic, then this recipe is one that simply needs to try.
Chili pepper, black pepper and lemon juice are all incorporated to make a spicy little seafood snack that takes seconds to prepare and cook.
To get the sauce inside the shell, you will need to shuck your oysters, which is the process of prying open the shell to get at the juicy insides. 
However, if you can't shuck your shellfish, then this recipe also includes instructions for cooking your oysters without doing so. 
This is another easy way to add flavor to your grilled oysters. Parmesan cheese is combined with garlic, parsley, butter and Worcestershire sauce in a food processor before being gently ladled into each shell. 
The result is a cheesy, rich, seafood delight that works perfectly as a main meal, or as a side dish for accompanying other food. 
If you want, you can also add hot sauce to your mixture, for an extra spicy kick that is sure to liven up your oysters.
If you're feeling extra decadent, you could try this recipe and drench your oysters in a rich white wine butter sauce.
White wine is a classic accompaniment to many foods, including fish and chicken, and it makes a perfect addition to grilled oysters. This sauce is made using dry white wine, butter and kosher salt. 
It's an incredibly quick and simple recipe that tastes great when complemented with diced chives and parsley.
The sharp taste of the wine combines very well with the flavor of the oysters for a deluxe entrée that is sure to impress all of your guests. 
This is another grilled oysters' recipe that uses garlic butter instead of plain butter. It's much simpler than the last garlic oysters recipe we looked at, with fewer spices and herbs added to the mix.
As such, the oysters and garlic are allowed to speak for themselves, and you can see how well these two strong flavors complement each other. 
You can add hot sauce at the end if you desire, however, this recipe tastes just as good without any garnishes or condiments.
Tarragon has been used in French cuisine since medieval times, and one of its most common uses is when making Béarnaise sauce.
It's a fresh, tangy herb that pairs beautifully with oysters, and it works especially well in this recipe. 
As well as tarragon, this recipe contains hot sauce and ground pepper to add an awesome spicy kick.
For spice fans, this is probably one of the best ways to enjoy your oysters without drowning out their unique taste with too much chili. 
This recipe incorporates paprika and Parmesan cheese to give a savory twist to your grilled oysters, while adding a bit of color to the finished product.
You'll find that the combination of the three ingredients creates a delicious, flavorful topping that perfectly complements the salty taste of the oysters themselves. 
With Cayenne pepper thrown into the mix, this recipe produces bright red oysters that can be slurped out of their shells for a powerful, spicy entrée.
The addition of the cheese helps to balance out the spice and add to the wonderful combination of flavors that this recipe offers.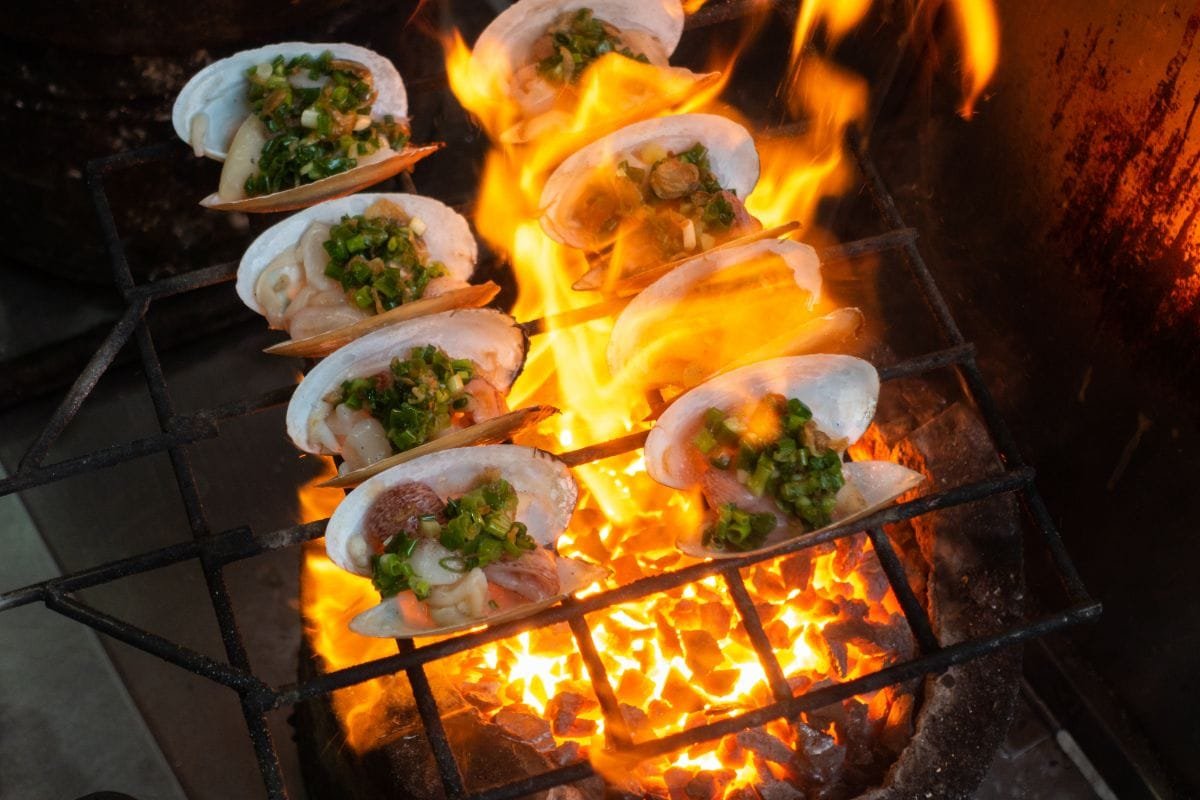 Char-grilling is a technique where meat, fish, or vegetables are cooked at very high heats, often over 400°F.
The advantage of this is that you get to enjoy your oysters much faster than you normally would, although you will have to do a bit more prep work beforehand. 
In this case, the oysters are char-grilled in a sauce made from butter, cilantro, lime juice and minced garlic, topped with a sprinkling of grated Parmesan.
The final result are succulent cheesy oysters that have a unique herby flavor.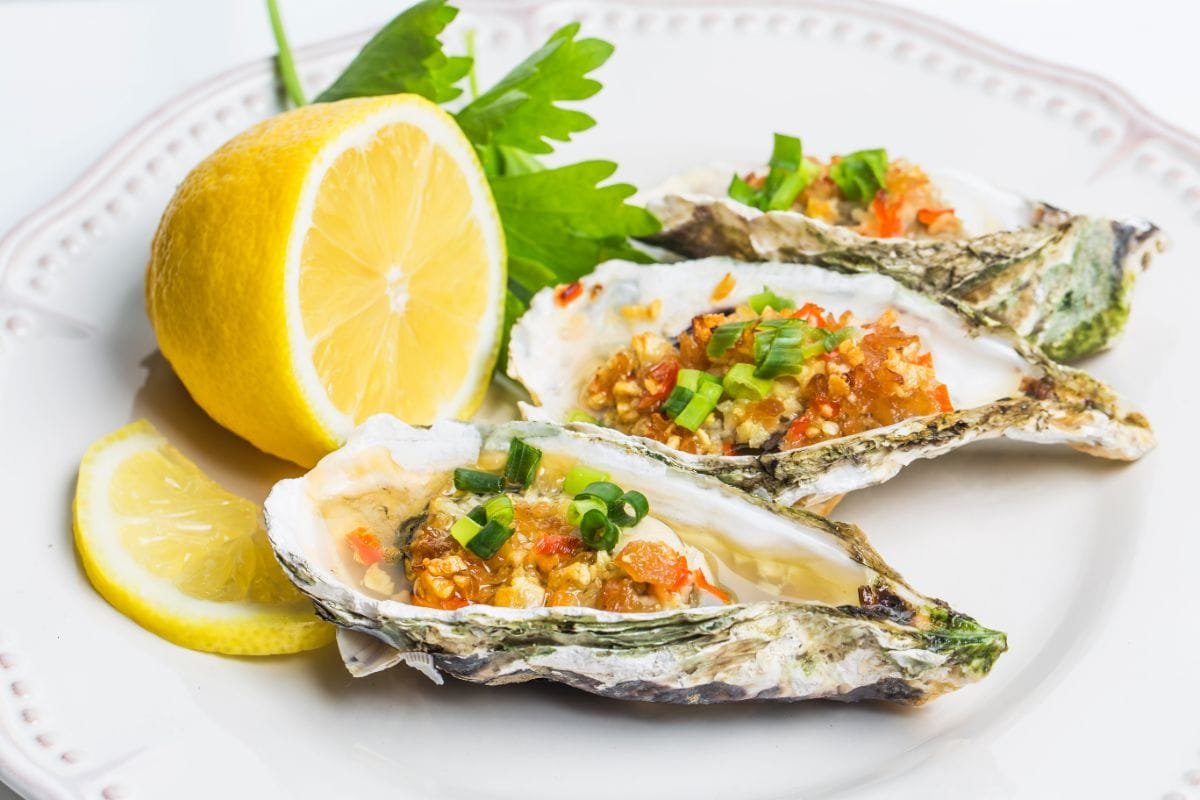 Oysters are native to Scotland, and they've been enjoyed as part of Scottish cuisine for centuries. This is a simple recipe that add a nice modern twist to the traditional method for cooking oysters
The oysters are marinated in a sauce made from olive oil, softened butter, garlic lemon juice and Tabasco before being cooked for up to 4 minutes over the grill.
This is a deliciously easy recipe that takes no time at all to prepare and cook, so it's perfect for anyone who is pressed for time and wants to try something new.
Paprika is a great ingredient to use in a lot of different recipes because it adds a lovely warm, smoky flavor to food.
In this recipe, it's combined with garlic and butter to create a rich, spicy sauce that will go perfectly with your grilled oysters. 
Parsley and lemon juice are also added to create a zesty side dish that is perfect for any barbecue, especially a seafood themed one.
This recipe only takes 15 minutes to prepare, meaning you can whip it up at the start of your barbecue for your guests to snack on while you prepare the main meal. 
If you're looking for a way to make your grilled oysters extra special, then this decadent recipe is definitely worth a try. 
It combines two different cheeses to create a rich covering for your oysters that brings out all of their natural flavors.
The result is a luxuriously cheesy seafood dish that is flavored with all kinds of exciting ingredients such as Worcestershire sauce, and Cajun spice.
Since the sauce is a little more complicated, this recipe will take slightly longer to prepare than some of the others on this list.
However, once you taste these oysters, you will never want to cook them any other way, ever again. 
Champagne vinegar is an interesting ingredient that has many uses in the kitchen.
This particular recipe uses it to make a classic mignonette dressing to give your oysters a tangy kick that complements their unique taste.
A mignonette is normally enjoyed alongside raw oysters, but this recipe proves that it works just as well for the grilled variety.
With a rich garlic butter and tons of different options for making different types of mignonette, this is a great recipe to try if you are feeling adventurous. 
Hot sauces like Tabasco and Sriracha are always fun to experiment with when creating recipes.
They bring out a lot of different flavors in foods, and they work particularly well with seafood dishes. In this recipe, hot sauce is used to create a delicious sauce for covering your oysters.
This is another recipe that requires a bit of preparation, but it won't take too long to put together. The result is a flavorful, spicy little side dish that is sure to impress your friends and family.
It is recommended to use Crystal hot sauce if you want to follow the recipe word for word, but you can try other brands or even make your own should you wish. 
This recipe may be a little time-consuming, but it's certainly not difficult to put together. It shows you how to make a rich, buttery sauce for your oyster that is packed with garlic and green chilies.
There are instructions for making this recipe that allow you to either shuck your oysters or leave them as they are.
All it takes is a few simple ingredients to make this dish that will add a bit of spicy Mexican kick to any barbecue or get together. 
In this recipe, you'll learn how to grill oysters without the shells. This means that you may spend a little more time removing the oysters from their shells, but it is worth it for the crispy result.
Since the oysters are drained for this recipe, they turn crispy as they cook and take on more of the flavors included in the sauce.
With Cajun spice, garlic and parsley mixed into the butter that the oysters cook in, this is an awesome spicy recipe that is sure to liven up any meal. 
Final Thoughts
If you're looking for a quick and easy recipe for grilling oysters, then look no further!
These recipes cover every type of sauce for accompanying oyster imaginable, ensuring there is something for everybody.
If you don't have access to fresh oysters, then some of these recipes may even work with the frozen variety as well. 
So, what are you waiting for? Get out there and start experimenting with some new grilled oyster recipes for a delightful seafood side dish that is sure to impress all the guests at your next barbecue. 
Latest posts by Julian Wells
(see all)