You know what?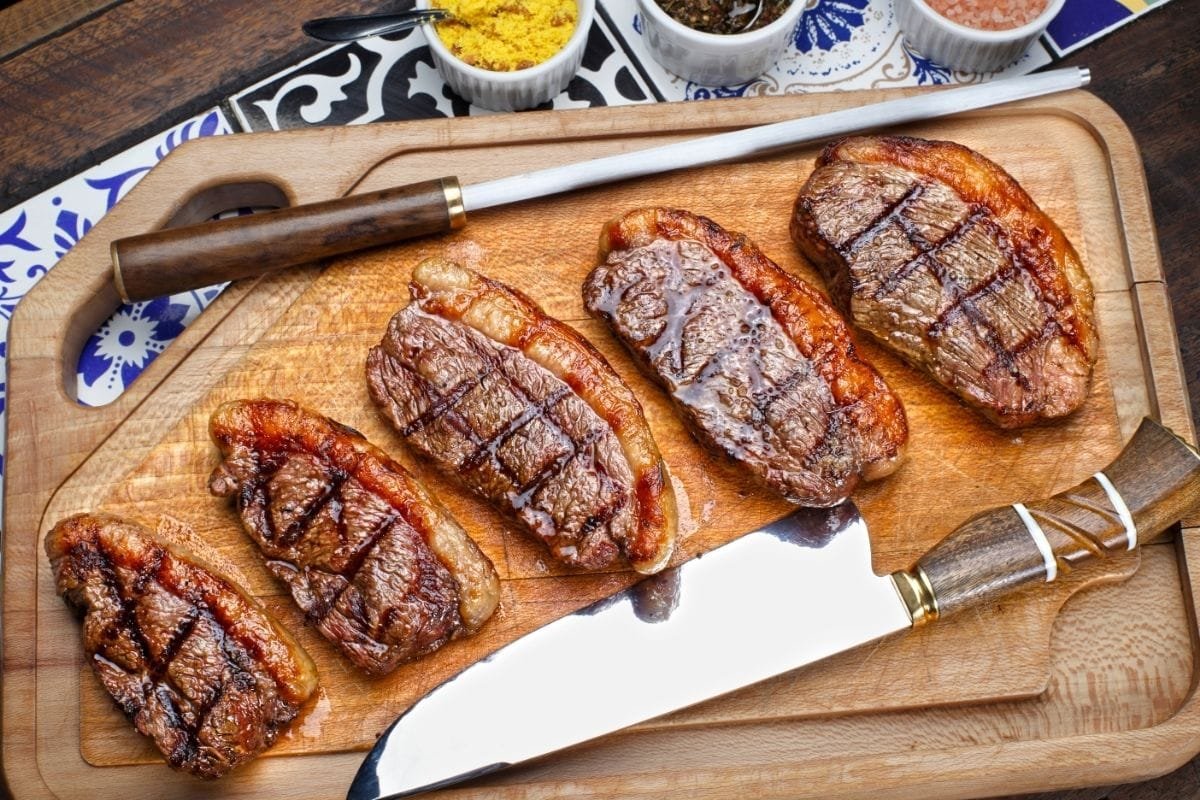 You can just forget about those red meat haters. Beef is good for you. Grilled lean beef is packed with protein, which is important for muscle strength and growth, and it helps you to feel full quicker, so you don't end up eating too much in the way of carbs.
And freshly cooked beef comes packed with iron, which is great for your circulation.
And coming up, I've got an amazing selection of 15 of the best grilled beef recipes on the net for you – each one is packed with flavor, and is sure to be the talk of your barbecue.
What's more, your guests will be left begging for another cookout. But, you may have a problem keeping up with demand! 
Anyway, here goes!
We're going to kick things off with a recipe that's packed with flavor, simple to make, and that uses easy to get hold of ingredients.
You can prep this one ahead of time and leave your favorite steak to marinade overnight (or failing that, at least for 2 hours).
The marinade has some super tasty ingredients – there's Worcestershire sauce, Italian seasoning, soy sauce, plenty of butter, a generous helping of minced garlic, and more.
And once they're on the grill, they're ready to eat in no time at all!
For the full recipe, simply click on this link.
Santa Maria, California, is known for producing some amazing grilled beef – char grilled black on the outside, while still pink on the inside. Very crisp, but also incredibly juicy.
It all starts with the marinade, and this one's got some really indulgent, flavorful ingredients. There's red wine vinegar, dried rosemary, paprika, tangy Dijon mustard, 4 whole cloves of minced garlic, and more.
Follow the recipe exactly, and you're guaranteed some amazing results!
For the full recipe, simply click on this link.
Now, this recipe puts a sweet yet savory oriental spin on your classic American barbecue grilled steak. What's more, the prep time comes in at a mere 10 minutes, while the grilling itself takes even less time.
There is of course a marinade, and the included ingredients feature such delights as sweet honey, garlic and onion powders, savory soy sauce, and tangy ground ginger.
If you allow at least 4 hours for the flavors to soak in, you will get some amazing steaks off the grill!
For the full recipe, simply click on this link.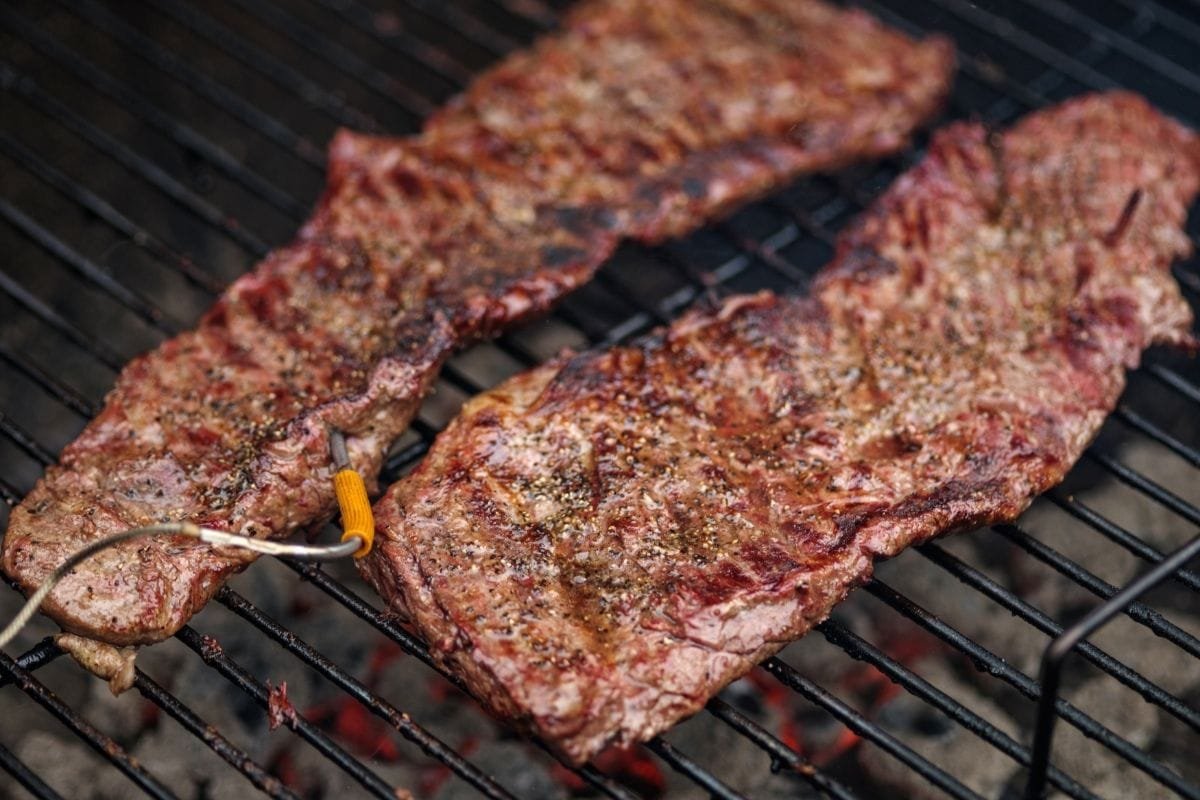 For those of you who don't already know, hoisin is an ever popular oriental sauce that is thick and flavorful, with hints of plum and ginger.
And this recipe takes hoisin sauce, throws in a magical mix of flavor enhancing ingredients, lets the juices soak in as it marinades, to give you some amazing hot and exotic steaks.
The marinade ingredients include sweet brown sugar, plenty of minced garlic, a good splash of hot sauce, freshly ground black pepper, and more.
The finished steaks taste great served with toasted sesame seeds and green onion!
For the full recipe, simply click on this link.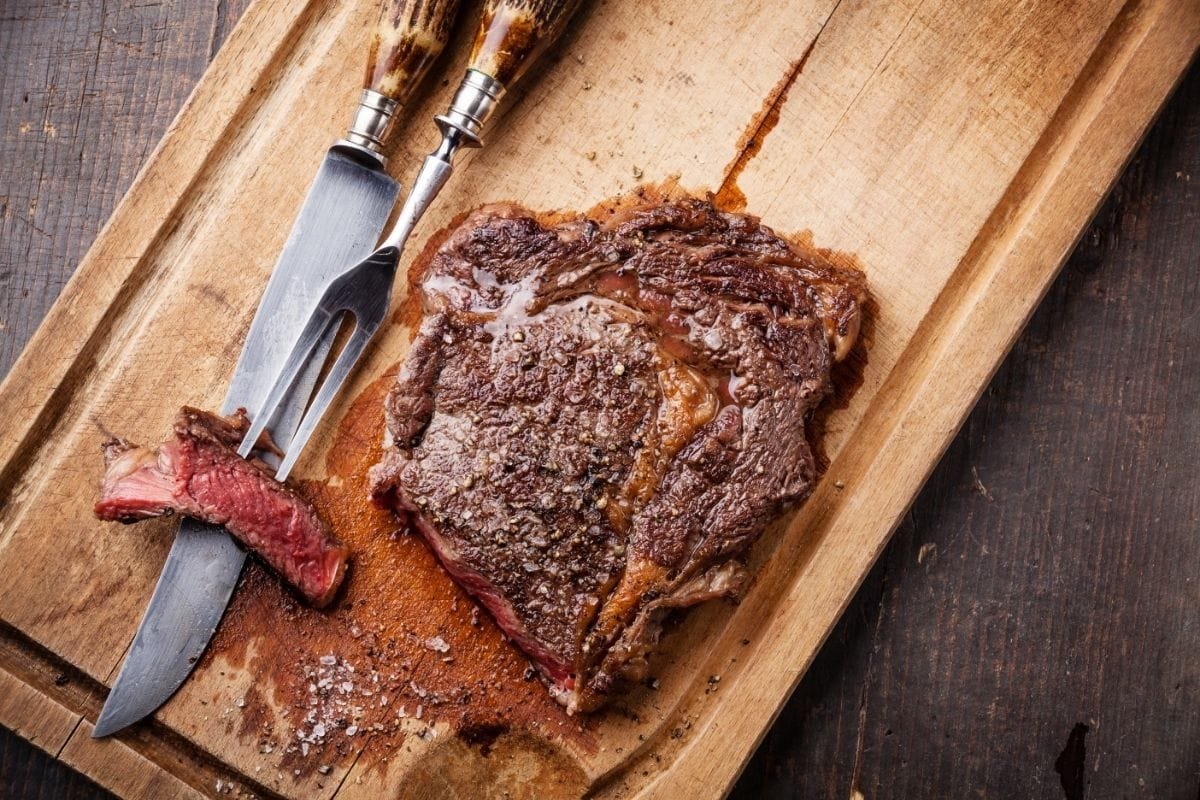 This is one of the most mouthwatering grilled steak recipes I've ever known. And you can put this recipe together on the day, without having to do any marinating the night before.
It all starts with the dry rub, which is made up of some great herbs and spices, including scrumptious garlic salt, divine paprika, powerful turmeric, hot chili powder, some red pepper flakes, sweet brown sugar, and more.
And after the grilling, you get to drench the steaks in the most moreish garlic butter you've ever tasted. What a win!
For the full recipe, simply click on this link.
For those of you who love their beef hot, hot, hot, this recipe will be right up your alley!
This recipe makes enough for 4 strip steaks, and besides the steaks you'll only need to source 4 other ingredients, namely salt, hot jalapeño powder, garlic powder, and a pinch of warming cumin.
And despite offering so much in the way of flavor and heat, this is actually one of the healthiest grilled beef recipes that made my shortlist, coming in at a mere 90 calories per serving.
For the full recipe, simply click on this link.
Get ready to be inspired! This international cuisine comes from the Middle East, and you use top sirloin steak with a sweet yet savory rub before it hits the grill.
You can top it off with lots of nice Moroccan garnishes too, such as yogurt, raisins, toasted almonds, and more.
But despite the recipe originating from afar, the ingredients are surprisingly easy to get hold of. The rub ingredients include delights such as allspice, sweet cinnamon, cumin, black pepper, and ground cardamom.
The finished steaks go great served with vegetable side dishes and flatbreads, as is traditional in Morocco.
For the full recipe, simply click on this link.
If you've ever fancied adding Bourbon whiskey to your beef dishes like they do in TGI Fridays, then this recipe could be just what you're looking for! Not only does the Bourbon add incredible flavor, but it also helps to tenderize the meat, too.
What's more, there are plenty of flavorful ingredients in the marinade as well, including the likes of soy sauce, Dijon mustard, minced garlic, brown sugar, Tabasco sauce, and black pepper.
Your cookout guests will be begging you for the recipe!
For the full recipe, simply click on this link.
Why not use this Mexican inspired dish to really step up the spice on your barbecue, and combine tender pieces of juicy beef steak with some wholesome goodness?
You simply make a dry rub with some hot chili powder, cumin, oregano, paprika and such.
And once the steak is grilled, leave it to cool a little before serving up with some delicious corn salsa with jalapeños and lime juice, some cheese, cherry tomatoes, tasty guacamole and some sour cream.
For the full recipe, simply click on this link.
For those of you who don't already, a caprese dish is simply one which is served up with the likes of fresh mozzarella, tomatoes, and basil.
An excellent, juicy and contrasting combination of flavors if you ask me. Very flavorful and very Italian.
The recipe begins with a sweet and savory marinade composed of Italian herbs such as thyme and oregano, combined with plenty of minced garlic and a generous portion of sweet honey.
You only need to marinate for about 20 minutes, and then grill on a high heat before serving up with the mozzarella, tomatoes, and basil!
For the full recipe, simply click on this link.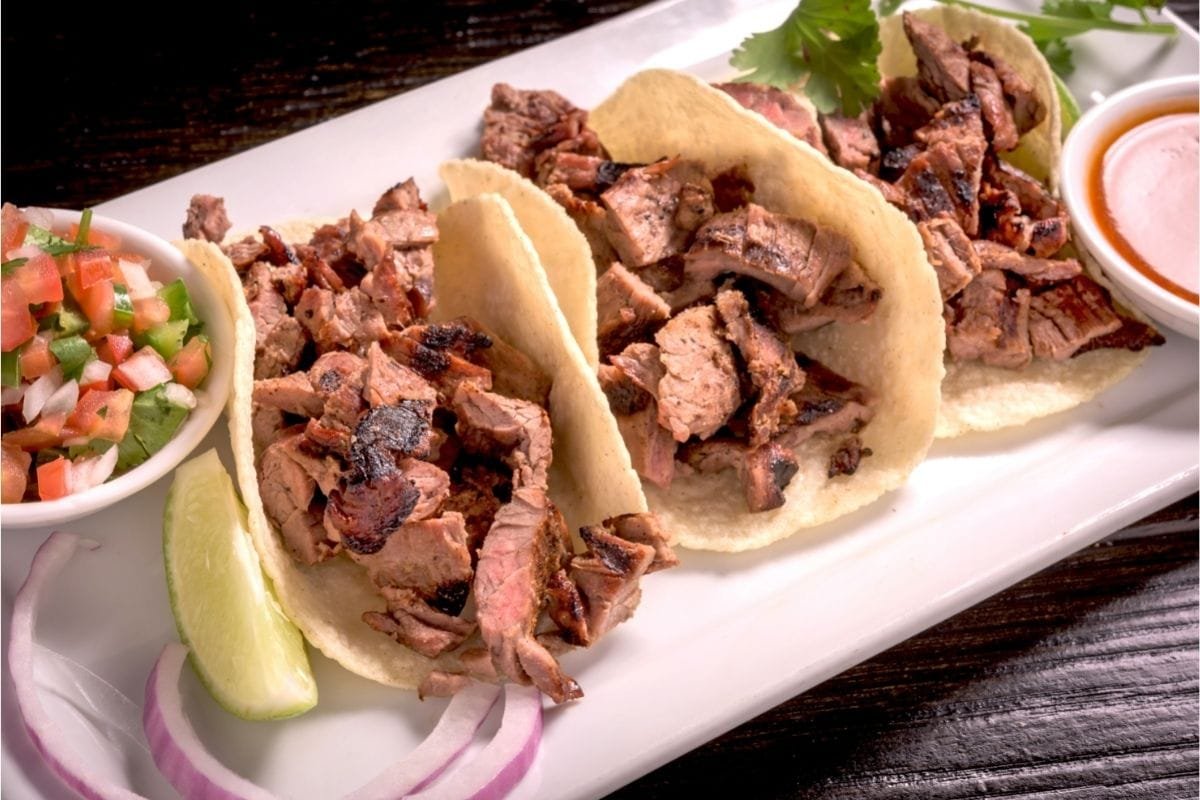 And remember, it's not just how you grill your cuts of steak, but also how you serve them up to your guests.
This recipe, which requires no marinating and minimal seasoning, requires that you also grill a few tortillas until charred, place slices of your grilled steak inside, and serve up with your favorite ready-made, store-bought salsa, and a good dollop of sour cream. All the flavors you need, and such a great contrast.
For the full recipe, simply click on this link.
If you have a large piece of beef tenderloin, I promise you this is one of the best recipes you'll ever find for it. It comes out incredibly juicy and tender and comes topped with a deliciously decadent crust.
The herb crust is composed of such ingredients as Dijon mustard, fresh rosemary, minced garlic, cracked black pepper, fresh thyme, coarse sea salt, and some olive oil.
The trick to pulling this recipe off to perfection is to use a grill that offers two-zone, or indirect heating.
For the full recipe, simply click on this link.
For this BBQ beef recipe with a difference, you will need some Korean-style short ribs or beef chuck flanken cut into strips.
But the best thing about it is the scrumptious marinade. It features a combo of both white and brown sugar, a large helping of black pepper, half an onion, minced garlic, white vinegar, soy sauce, and sesame oil.
You will need to marinate for at least 7 hours, so prepping the day before is best. And it's best grilled on a high heat for maximum effect.
For the full recipe, simply click on this link.
Although Asian satay sauces are most frequently associated with chicken dishes such as stir fries and the like, I can confirm that this particular satay sauce marinade pairs perfectly with trimmed top sirloin beef.
The marinade ingredients are easy to get hold of, and they include ginger, garlic, onion, brown sugar, fish sauce, vegetable oil, soy sauce, coriander, cumin, turmeric, and cayenne pepper.
The resulting skewers may be a little high in calories per serving, but once you taste it I'm sure you'll agree it's worth it! Calories? What calories?
For the full recipe, simply click on this link.
This deliciously hot and fruity recipe is split into two halves. It's a great weekend project for would-be chefs who want to try their hand at something new.
There's an amazing peanut-chili oil to make ahead to be used as a tantalizing dip for serving.
And then there's the job of making a fruity marinade composed of such fresh, flavorful ingredients as lemongrass, lime juice, brown sugar, and coconut milk. And the result is simply to die for! 
For the full recipe, simply click on this link.
Final Thoughts
So, there we have it. Fifteen amazing grilled beef recipes that your cookout guests will adore!
Latest posts by Julian Wells
(see all)