Imagine a big pork belly smoking on the barbecue on a gorgeously sunny day, and you're surrounded by friends and family.
You're tending to the barbecue, and you can see the sparkling juices dripping down from the pork crackling as you look down at it.
It has that kind of mouth-watering smell that makes your stomach want to exit your body and devour the succulent meat there and then. 
If you're reading this salivating, then maybe it's about time you organized a gathering of people to come around your house – it's the perfect occasion to cook your loved ones a smoked pork belly that everyone can tuck into and enjoy!
Smoking pork belly makes it lovely and tender, and the cut itself is one of the cheapest cuts of pork. This makes it great when you're feeding lots of people!
And, not only is it rich in flavor, it's also a wonderful source of healthy vitamins, such as B vitamins, zinc, iron, and copper. 
To help you in your quest for a great barbecue party, we've made a list of 15 of the best mouth-watering smoked pork belly recipes to enjoy with friends and family!
This first recipe from Hey Grill Hey uses their very own signature sweet rub and BBQ sauce to coat the pork belly with, making it super flavorsome!
The meat is cooked for over six hours on your smoker, making it nice and tender and enhancing that smoky flavor.
We all know how well pork and apple go together and in this recipe, the pork is spritzed with apple juice every hour whilst it's cooking and towards the end it's also wrapped in tin foil with half a cup of apple juice.
These smokey bite-sized pork belly burnt ends are extremely tender and crispy and will go down a treat at any party – they can be used in a main meal, as a tapas dish or simply as finger food!
Towards the end of the cooking time, it's coated in a sweet and sticky BBQ sauce made from nine different ingredients, including apple juice, cider vinegar and cayenne pepper.
The depth of flavor and aromas this adds to the pork itself is irresistible.
Because this recipe lets the pork belly sit in the fridge for 12 to 24 hours before cooking, whilst coated in a dry rub, it adds an enormous amount of flavor to it and makes it more tender.
And the best part is the dry rub is very conveniently made up of store cupboard ingredients you probably already own, such as sugar, smoked paprika and chili powder!
When it's time to cook it, pop it on your smoker, and it'll be ready in around three to four hours for you to enjoy that sweet and slightly spicy coating!
To bring out the best in the pork, this recipe asks you (if you have time) to season the pork all over a few hours before cooking with 2 tablespoons of salt to create a dry brine.
This helps crisp up the fat to maximum effect for a crunchy, satisfying crackling!
To intensify the flavor even more, we have a sticky BBQ sauce and a dry rub made with cumin, fennel, and oregano to give the meat a beautiful, distinct taste when you tuck into it!
This Chinese-inspired pork belly recipe uses Char Siu sauce. Char Siu is actually a type of Cantonese roast meat.
Therefore, a Char Siu sauce refers to the salty, sticky, sweet BBQ sauce the meat is marinated in for at least four hours before it's cooked.
It contains ingredients such as hoisin sauce, sesame oil, and soy sauce. 
This bold and taste bud tingling sauce will make the meat super tender and, at the end of the day, who doesn't love those Chinese flavors?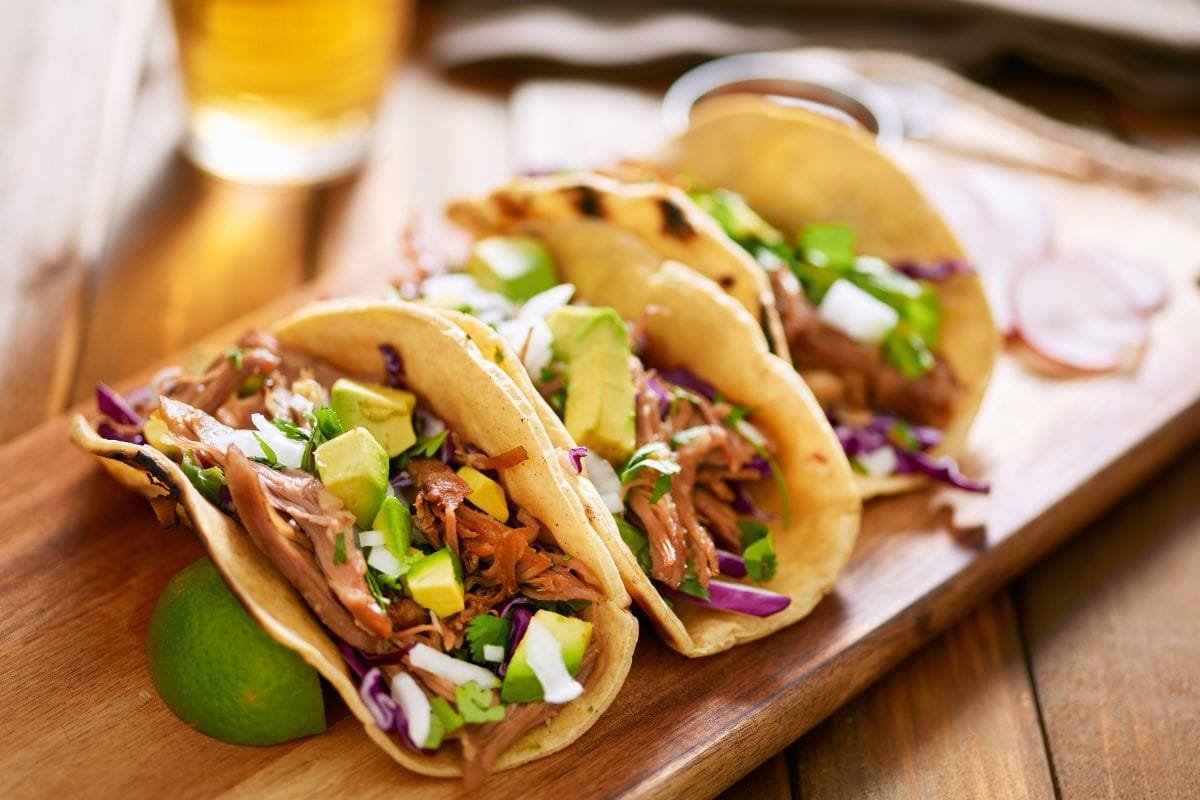 What is both exceptional and practical about tacos is that you can pick them up, and it's like having an all-in-one meal without the need for a knife and fork!
They're super fun to eat, and you can put any meat in them, including smoked pork belly, which tastes fabulously tender inside those (crispy or soft) taco shells.
In this recipe, the pork is cooked for over four hours and is then pulled apart to easily assemble the tacos.
On top of that, included are all of those lovely Mexican food toppings, such as a Mexican slaw and sour cream. 
If you're looking for a super healthy but tasty way to add smoked pork belly into a dish, then this warm salad recipe is perfect for you!
It only takes about an hour to make and contains healthy ingredients, such as carrots, shallots, capers, scallions and cornichons.
And, there are the green lentils themselves, which provide you with good amounts of fiber, folate, potassium and plant-based protein.  
And adding the beautifully succulent pork belly on top of that gives the dish copious amounts of flavor!
Both sweet and spicy, this smoked pork belly recipe is a great idea for party food, as it's handheld and easy to eat without requiring anyone to even sit down!
The pork belly is coated in a beautiful rub that includes strong flavors like ancho chili, celery salt, cumin, cayenne pepper, and Chinese five spice.
It's then cooked for over three hours to make it nice and tender, and is sliced and added with the grilled pineapple chunks and jalapeños into the sliders.
The combination of flavors used here is bold, but it sure does taste absolutely brilliant!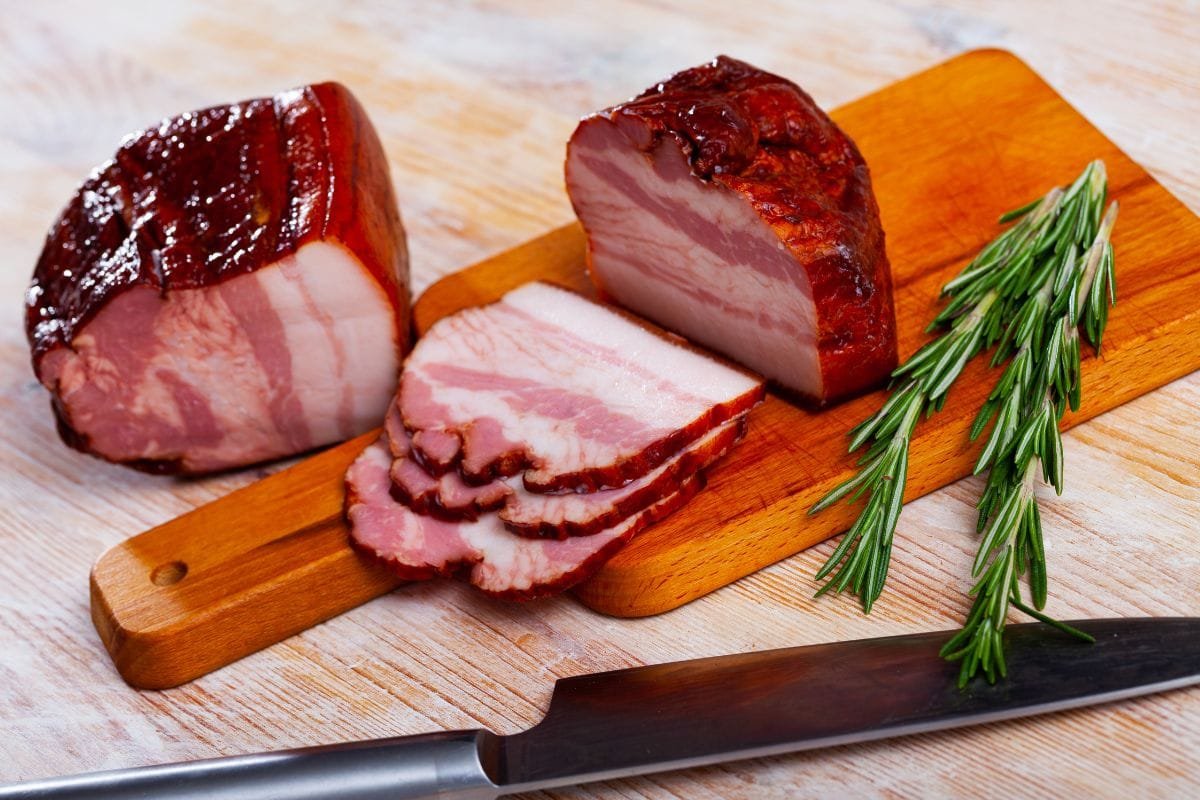 This smoked pork belly recipe consists of a fairly simple dry rub made with kosher salt, brown sugar, sweet paprika, chili powder, and ground pepper.
The pork is then covered with a plastic wrap and placed in the fridge for 12-24 hours to enhance the dry rub flavors and tenderize the meat. 
Then place it on your smoker using applewood to smoke it, and it will take around six hours or so to cook, meaning it should fall apart beautifully once it's done!
Texans most definitely know how to barbecue and smoke their meats, and this texas-style smoked pork belly is a great example of that!
The rub for the pork is comprised only of salt and pepper. Interestingly, to make it 'Texan', the pepper ideally needs to be coarsely ground to create a satisfyingly crunchy, peppery bite.
You can then cook it right away after adding the rub for around 6-8 hours, so the meat should be super tender and crispy once it's done.
Coming to the slightly fancy, professional Masterchef-esque end of the spectrum, this recipe requires the pork to be sous vide, which is perhaps the best technique used to tenderize meat to perfection, so it literally melts in your mouth!
The pork belly first gets cold smoked for two hours, then sous vide in a Cryovac bag full of a marinade that includes honey, soy sauce, and ginger powder.
It is then finally finished off on the grill for a flavorsome and melt-in-the-mouth treat. 
In this recipe, the pork belly is brined for a considerable amount of time – one to three days – before cooking to make it even more delicious and tender!
The brine consists of cold water, apple cider, molasses, peppercorns, and a cup of salt. The molasses in particular brings a lovely sweet flavor to the pork belly.
Once finished brining, the pork is coated in a lovely blend of dry spices and, after being able to sit for 10-20 minutes, is then cooked on the smoker until it's reached around 190 degrees Fahrenheit.
Once done, it should be irresistibly tender and tasty!
These smoked pork belly slices are sweet, smokey, and packed full of flavor. Also, because they're smoked after slicing, they don't take anywhere near as long to cook as a whole pork belly!
The pork gets seasoned with a well-balanced slightly smokey but sweet dry rub consisting of salt, pepper, paprika, smoked paprika, garlic powder, onion powder, and brown sugar.
Then, whilst cooking, it gets sprayed 2-3 times with apple juice or apple cider vinegar – your choice!. Once it's done, add some BBQ sauce, and it'll taste super smokey and super juicy!
This recipe suggests putting a mustard binder and the rub on your pork belly midweek and cooking it on a Sunday.
This gives it plenty of time and opportunity to absorb the kick of the mustard and all the wonderful flavors of spices like cayenne pepper, chili powder, and cumin.
Cook for around three hours and let the skin crisp up to create a crisp crackling on the outside and beautifully tender meat on the inside!
Creating these finger-food smoked pork belly bites is extremely simple!
All you need is salt, pepper, and a rub of your choice – the recipe suggests the Immaculate Bites Pork Chop Seasoning or a Homemade Creole Seasoning.
Then you cook the meat for around three hours, let it rest, and cut into bite-sized pieces that are perfect party food for your guests to enjoy with delight!
Final Thoughts 
So there you have a list of our favorite smoked pork belly recipes. They're all relatively simple to make and will come out of your smoker super tender and packed full of juicy flavor and crisp crackling.
Now go and arrange that gathering of family and friends and impress them with your barbecuing skills by cooking them some of the best smoked pork belly they've ever tasted!
Latest posts by Julian Wells
(see all)