Mahi-mahi is a type of white fish that is often served at restaurants or barbecues. If you love grilling fish, then you should try these 15 mouthwatering recipes. They are sure to impress your guests.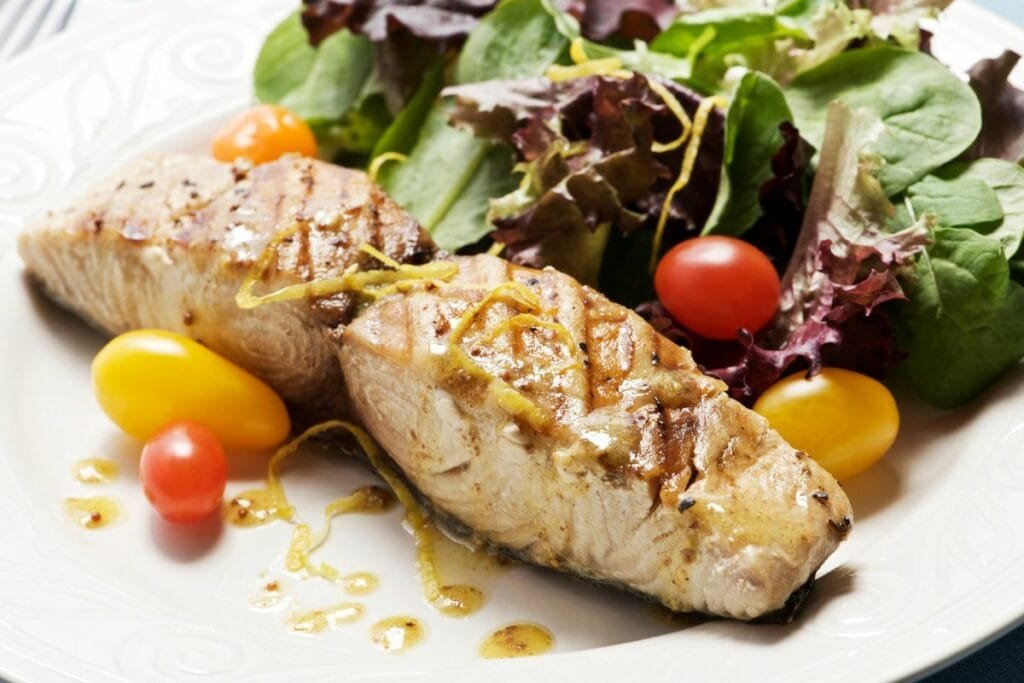 Mahi-mahi has a mild flavor and is low in fat. This fish has a subtle sweetness to it that you are sure to love. It is also very versatile and can be cooked in various ways.
Moreover, mahi-mahi can be served with different side dishes, such as potatoes, rice, salad, and cauliflower. The meat is lean and firm, making it ideal for grilling.
If this sounds appealing to you, here are 15 magnificent mahi-mahi recipes for you to check out:
First, we have a recipe for grilled mahi-mahi with lime butter. The butter adds a nice citrusy note to the dish.
You can prepare this lime butter ahead of grilling, thus saving yourself time. This butter is super simple to make and only requires two ingredients.
The use of chili powder gives this white fish a spicy kick that is not overwhelming. Among the other ingredients are black pepper, garlic powder, and lime juice.
These parts combine together to create a delectable palette of flavors. You will find yourself wanting more!
This next recipe comes from Chew Out Loud. It is an easy perfect mahi-mahi recipe that does not require many cooking skills.
Instead, all you need to do is marinate the fish in a straightforward lemon-garlic mixture. This mixture is made with tasty and natural ingredients, including slices of lemon, clove garlic, and parsley.
Though this recipe mentions cooking the fish in the oven, you can also try grilling it for a smoky flavor.
This handy recipe also contains plenty of information, such as serving recommendations. For instance, one of the suggestions is to serve it with garlic roasted potatoes.
Eating on a Dime offers up another delicious mahi-mahi grilling recipe. In this recipe, the fish is seasoned with salt, pepper, garlic powder, paprika, and Italian seasoning.
Next, it is rubbed with olive oil and placed onto a grill.
Perhaps what we love most about this recipe is its simplicity. All you need to do is cook the fish over medium heat until it turns golden brown.
Then, remove the fish from the grill and set it aside. Finally, you can enjoy it with some grilled broccoli or potatoes.
It should take just 15 minutes in total, giving you plenty of time to enjoy the BBQ.
Next, we have an incredible recipe from Feel Good Foodie. This recipe calls for avocado salsa.
The salsa is made by mixing diced avocados, cilantro, red onion, mango, and lime juice.
This salsa goes well with grilled mahi-mahi, creating a unique dish that people are certain to adore. Plus, the salsa is incredibly vibrant and aesthetically pleasing.
This recipe is ideal for a summer BBQ. It is light, refreshing, and healthy. If you like your food to be a little bit sweet, then this recipe is right up your alley.
The avocado salsa is a great way to add a touch of sweetness to your meal, largely due to the mangoes.
The Forked Spoon has an amazing mahi-mahi grilled recipe. This recipe is cooked in a divine lemon garlic sauce.
The sauce is made using fresh lemon juice and garlic cloves. After the fish has been cooked, it is served with the sauce.
While the recipe advises that you cook the fish filets via pan-frying, this recipe also works perfectly on a grill. In fact, we preferred this cooking method.
This recipe should result in a fantastic flaky fish that will be the delight of your BBQ.
Do you like tacos? We can't get enough of them! So, if you're looking for a fun and different way to eat mahi-mahi than traditional fried fish, then check out this tacos recipe from Epicurious.
This recipe uses sensational seasonings such as paprika, dried thyme, oregano, and cayenne pepper.
These tacos contain lots of delicious ingredients, such as tomatoes and cilantro.
One of the best things about this recipe is that you can easily customize it, allowing you to add whatever fillings you desire.
These tacos can be eaten with chips. You can either serve this meal at your next BBQ or for a midweek meal.
If you want a straightforward recipe, this may be the ideal one for you. The recipe from Cooking JSL takes only 15 minutes to prepare.
It contains no fancy spices or sauces. Instead, it relies upon simple ingredients, including lemon juice, dried oregano, and simple salt.
After the fish has been marinated, it is placed on a hot grill. Cook the fish for approximately 5 minutes per side. Once finished, the fish is served with a fresh garden salad.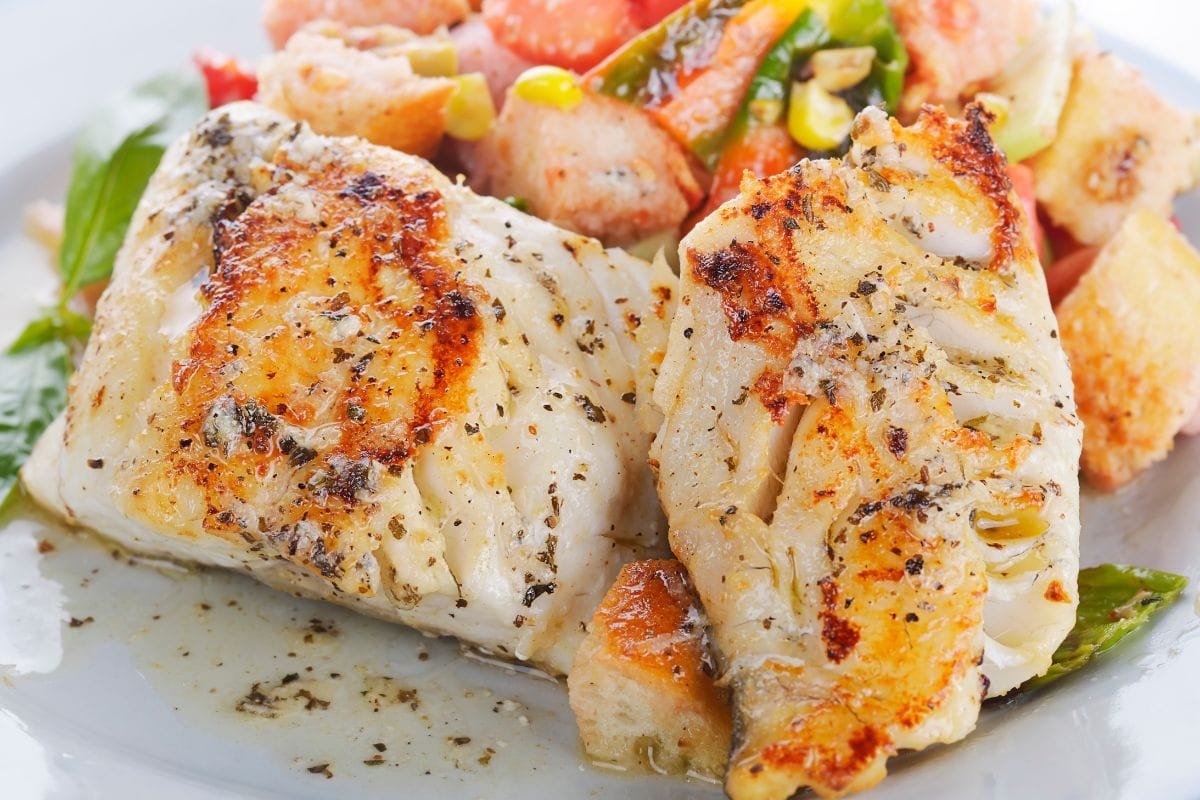 This recipe from Food Network is a classic. It's a very easy recipe that requires minimal effort. The mojo is made by combining olive oil, lime juice, salt, and garlic.
If you have never tried mojo sauce before, we strongly suggest that you give it a taste. It combines with the fish wonderfully.
We love this recipe because it is quick, easy, and delicious. It is perfect for a BBQ. Furthermore, it needs very few ingredients, saving you time and money.
This next pick is a fantastic recipe from Recipe Girl, which combines Mahi-Mahi with succulent pineapple salsa.
The recipe calls for a combination of fresh herbs and vegetables, including red onion, serrano peppers, and tomato. All of these ingredients are combined together to create a delectably rich salsa.
The salsa is mixed into lemon butter, which is used to coat the fish. The butter provides a wonderful flavor to the fish.
The fish is then grilled until golden brown. Finally, it is served with this mouthwatering pineapple salsa.
The next choice is a scrumptious recipe from Hey Grill Hey, which uses blackening seasoning to impart an incredible flavor to the fish.
After the fish has been marinated, it is coated with the blackening spice mixture. Then, it is cooked over a charcoal grill.
This seasoning not only tastes terrific, but it also gives the mahi-mahi a gorgeous golden coloring. This recipe is best served with a bed of rice, creating a healthy meal.
Are you a fan of burgers? If you're like us, you'll love a good burger. That's why we've included this recipe on our list.
The burger in question is a mahi-mahi burger, taking a twist on a traditional burger. This burger contains a glorious spicy mayo, roasted poblanos, and avocado.
In order to make this burger, you will need brioche burgers. These buns are often considered superior to standard buns as they are sweeter and more flavorful.
Essentially, this burger is a more revolutionary version of a standard burger with a fishy twist.
If you enjoy seafood pasta dishes, this recipe is sure to please. The dish includes a light lemon garlic sauce, along with parmesan.
You can grill the mahi-mahi or other type of white fish before the BBQ to cut down on preparation time.
Though this dish is suitable for BBQs, we also enjoy making it in the middle of the week. It makes a perfect dinnertime meal with a touch of elegance.
This recipe from Lemon Blossoms is one of our favorites. We think that it is absolutely delightful.
It features a mango lime sauce, made with white wine, heavy cream, and fresh lime juice. This creates a gorgeous combination of sweet and sour.
One feature that we love about this recipe is that it has tons of top tips, which can make the cooking process much easier. The fish will have a perfectly flaky texture.
Next, this fish is accompanied by a balsamic tomato salad with loads of nutritious ingredients.
The salad includes cherry tomatoes, parmesan, basil, and balsamic vinegar. The flavors combine perfectly to make a delightful dish.
This dish feels incredibly sophisticated. Despite this, it is a simple meal that can be completed within 30 minutes.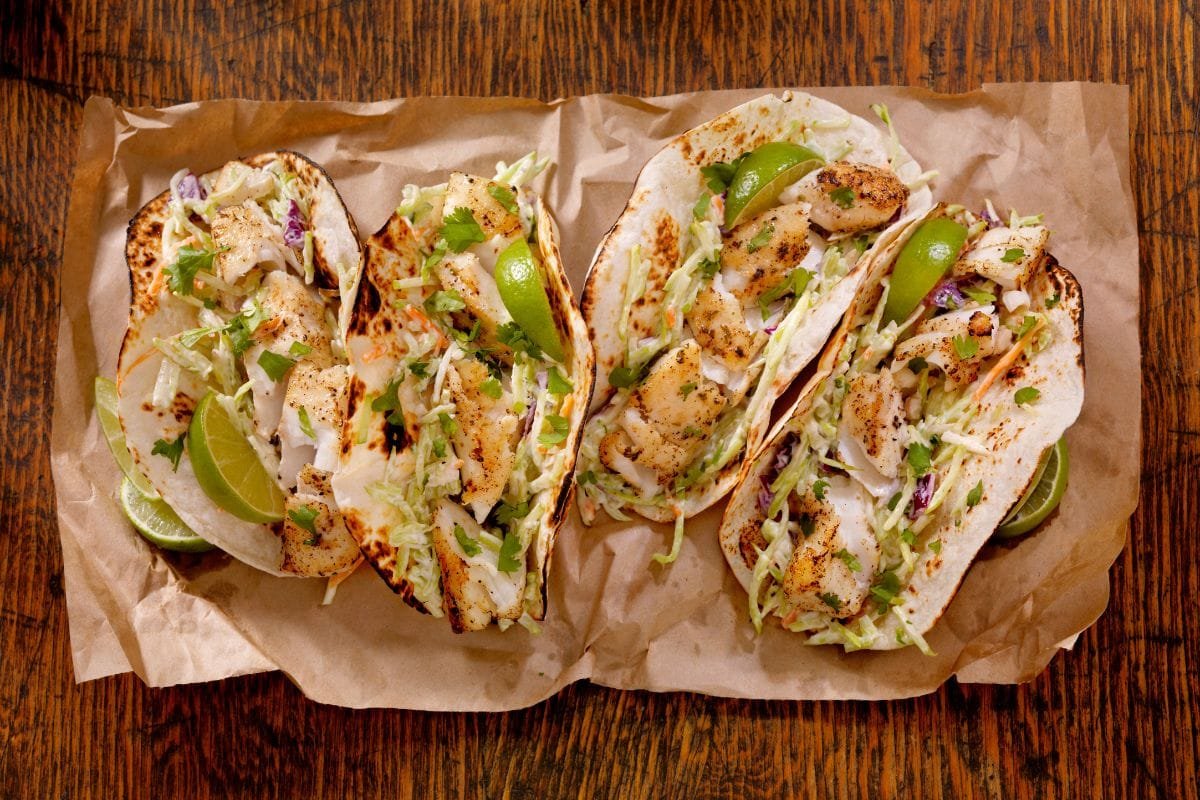 Last but not least, here is one of our favorite recipes. We chose this recipe because it is so incredibly flavorful. It is also extremely versatile, making it suitable for any occasion.
The recipe includes all sorts of different flavors, due to the spicy coleslaw. This coleslaw contrasts deliciously with the sweetness of the white fish.
Despite the complexity of flavors, this recipe requires very few ingredients. This includes garlic powder, paprika, sriracha, cayenne pepper, and red cabbage.
These ingredients are really easy to get a hold of, so you won't have to worry about finding loads of complex ingredients.
Frequently Asked Questions
What's The Best Way To Cook Mahi-Mahi?
You can cook it either in the oven or on the grill. We prefer grilling because it gives the fish a nice smoky flavor.
Also, it makes it easier to control the temperature. Oven or pan-frying are also perfectly acceptable ways to cook this type of fish.
Can I Marinate Mahi-Mahi Before Grilling?
Yes! Marinades work really well when grilling mahi-mahi. They help keep the meat moist while adding flavor.
For example, you could use a marinade based on lemon juice and butter. You can either apply this marinade before cooking the fish or mid-way through the cooking process.
Why Do People Like Mahi-Mahi?
Mahi-mahi is a great-tasting fish that has become increasingly popular. It has a mild flavor, making it versatile. It pairs well with many different flavors.
For example, you can pair it with spicy foods like cilantro or Thai basil. Or, you can serve it with sweet fruits like mangoes or peaches.
You can also accompany it with various side dishes, making it a customizable meal.
Final Thoughts
Ultimately, the best grilled mahi-mahi recipe will depend on what kind of flavors you prefer.
You may want to experiment with some of the ingredients listed above until you find something you like.
The key to great grilled mahi-mahi is using a high quality-marinade. You don't have to use any fancy sauces or spices; just make sure they are fresh and flavorful.
Once you get the hang of it, you will be able to create delicious grilled mahi-mahi meals in no time!
Latest posts by Julian Wells
(see all)