For all mushroom lovers out there, nothing compares to a portobello mushroom.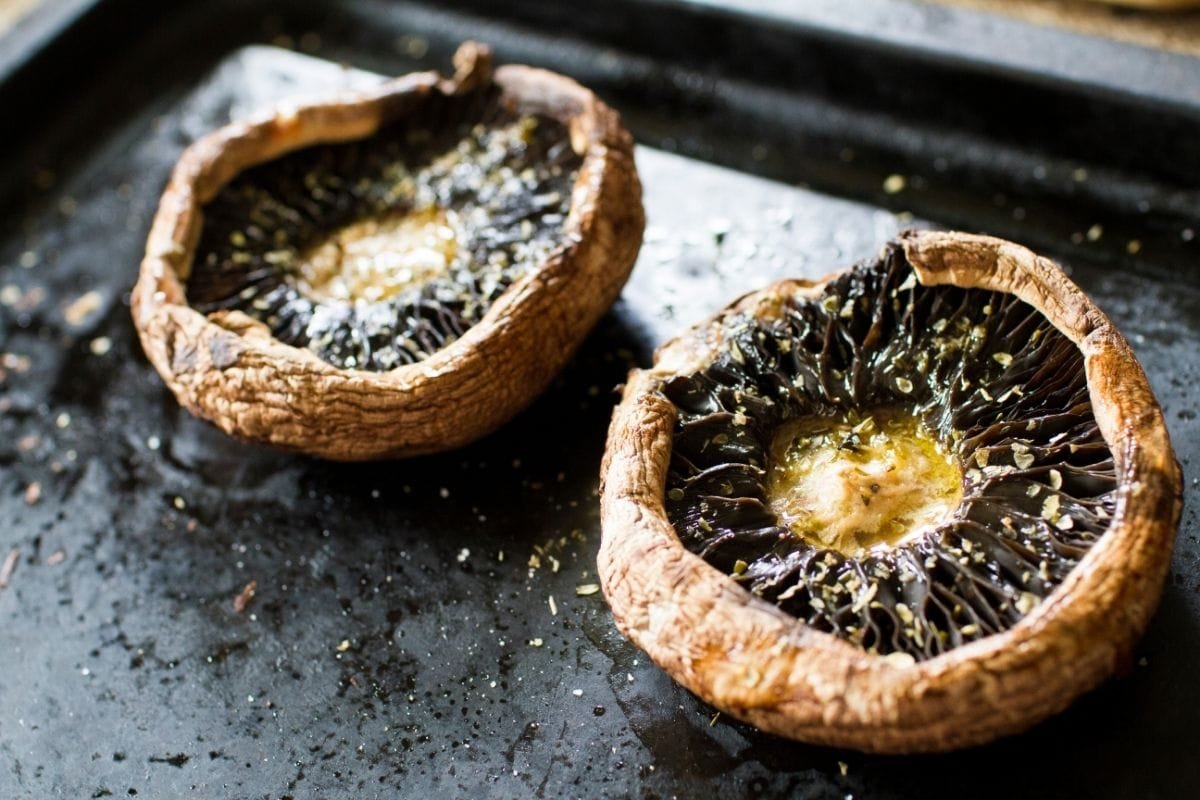 These members of the mushroom family are superior, to say the least, with a meaty, juicy texture, and a rich, earthy flavor.
The cooking varieties with this mushroom are endless. You can stuff them, marinate them, and even use them as burger buns!
Health Benefits Of Portobello Mushrooms
Aside from tasting delicious, these mushrooms are low-calorie vegetables that contain an array of nutrients, making them a great addition to your diet.
They are a great source of fiber, providing you with 11 percent of the daily value! They also contain several B vitamins that are important for a healthy nervous system and metabolism. They also keep your skin, hair, and eyes healthy.
These mushrooms are also very mineral-rich, containing a good amount of selenium, an important antioxidant.
Now that you're aware of what a healthy addition to your diet these mushrooms can be, this article will be providing you with 15 scrumptious grilled portobello mushroom recipes, perfect for any barbecue or family gathering…or just for you!
Enjoy!
Chicken and pesto are a wonderful combination – then spread them both over some juicy, grilled portobello mushrooms, and you'll seriously wow your guests.
This recipe is super easy, and it's totally customizable! This is perfect as an entrée, a side dish, or a light main dish for those days you don't want to spend too much time cooking!
Even meat lovers will enjoy this scrumptious take on a veggie burger. This recipe involves marinating your portobellos with some soy sauce, balsamic, and steak seasoning.
They are then placed on the grill to let those flavors seep into the meaty mushroom.
During the last minute of grilling, these mushrooms are topped with some delicious Swiss cheese and then topped with grilled onions, spinach, and avocado before sandwiching them between two buns.
If you really want to be extra, you should opt for brioche buns for optimal flavor.
There are many healthy-eaters out there who love burgers but want to ditch the buns, and burger patties on their own can only do so much.
Portobello mushrooms are the perfect low-carb burger bun, and they add a whole lot of flavor to the entire meal!
This option is perfect for those on a keto diet, or for anyone who wants to reduce their calorie or carb intake.
If you'd like to make this completely veggie, then you can substitute the beef patty with a veggie one!
This recipe is perfect as a side to any barbecue you are attending or hosting yourself!
It only takes 25 minutes from start to finish and has a delicious flavor.
All it involves is mixing all the ingredients together to let them marinate, and then spreading the mixture over the mushrooms after they've been grilling for a few minutes.
The result is a deliciously herby flavor, perfect as an accompaniment to any dish of your choosing!
Portobello mushrooms are pretty huge, making them the perfect steak replacement!
As mentioned earlier in this article, these mushrooms have quite a meaty texture, making them great at mimicking steak.
These mushrooms go perfectly with a simple salad, or you can top them with whatever toppings you prefer.
These mushrooms are marinated with balsamic vinegar, tamari, grapeseed oil, Worcestershire sauce (vegan), garlic, liquid smoke, onion granules, salt, and pepper.
They are then grilled and flattened with a spatula, so they can spread out in size.
Serve with some potatoes and veggies for an easy, light dinner.
Garlic butter is a wonderful condiment for steak, and the same goes for portobello mushrooms!
This recipe involves coating these delicious mushrooms with olive oil, garlic, and melted butter, along with a splash of lemon.
If you want to level up the flavor, add a sprinkle of chunky sea salt and parsley for the ultimate side dish.
Barbecue ribs are a true barbecue staple food, but this doesn't mean that all vegans and vegetarians have to miss out on this delicious dish.
Similarly to steak, the meaty texture of portobello mushrooms makes them a great option for some veggie 'ribs'.
All you need to do is prepare your mushrooms by removing the stems and cleaning them, and brushing over them with some olive oil, salt, and pepper.
Grill them for around 3 minutes, add some of your favorite barbecue sauce, and grill for a further 3 minutes.
Once done, slice them into little 'ribs', and Voilà!
The sheer size of these mushrooms makes them perfect for stuffing with whatever needs eating up in your refrigerator!
This recipe stuffs its mushrooms with some wonderfully refreshing ingredients, such as fresh herbs, tomatoes, and cheese, before grilling them to perfection.
While this recipe uses mozzarella, you can use any cheese your heart desires!
Perfect as a side dish or appetizer, you really can't go wrong with this delicious recipe.
Cheddar cheese, fresh garlic, freshly chopped spinach… all these wonderful ingredients that compliment each other so well will fill your mushrooms with a seriously comforting and rich flavor.
You can enjoy this as a side, or as a meatless dinner on a bed of crunchy salad – enjoy slicing open these mushrooms and watching the gooey cheese melt over your plate, creating a cheesy sauce for any other items on your plate.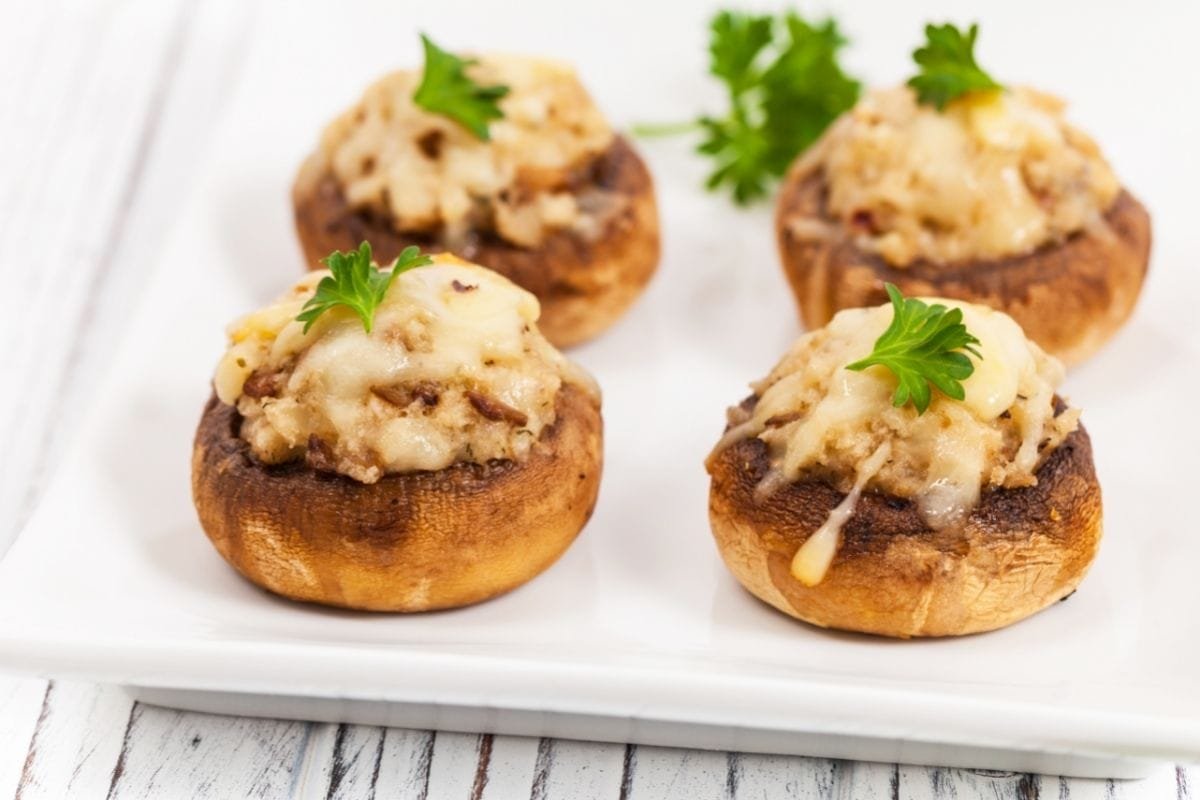 This recipe works best with the largest portobellos that you can find.
These mushrooms are grilled with a knob of butter in each, before being filled with a flavorsome breadcrumb mixture, red pimientos, and sprinkled with some of your favorite grated cheese (a lot of cheese!).
Cut them into quarters, and they may even look like little mini pizzas!
This recipe is for all the Italian sausage fans out there!
These mushrooms are filled to the brim with freshly chopped spinach and herbs, fresh garlic, and some grated mozzarella (you can customize the cheese to whichever you prefer).
They are then filled with either hot turkey, or pork Italian sausage (cooked)and added to the grill until the cheese is hot and bubbling!
These are perfect for a light mid-week dinner, and can be saved in the refrigerator for your lunch the next day!
This is the ultimate veggie sandwich, and even if you aren't a veggie, you are bound to love this.
The trick to perfecting this recipe is to make sure you are using some sturdy, high-quality sandwich rolls.
Each roll is spread with a delicious spread of mayonnaise, Parmigiano, and garlic, before adding the juicy, mozzarella-topped mushrooms, and topping them with tomato and basil.
This is the perfect vegetarian lunch, and you can make as many as you want and save them for lunches during the week.
Tacos are loved by many, but perfected by few. That ends with this portobello mushroom taco recipe.
Aside from being truly colorful, these tacos are delicious and gluten-free!
It's grilled galore with these tacos, as they include grilled portobello mushrooms, grilled corn on the cob, and grilled red bell pepper!
I think we can all agree that everything tastes better on the grill, so you won't be disappointed with these tacos.
This dish comes marinated in balsamic vinegar, along with some lime. This mixture caramelizes the mushrooms, bringing out a tremendous flavor.
The best part about this recipe is how versatile it is. You can add any toppings you like! The best ones would have to be some guacamole (duh!), shredded carrots, or if you're a lover of spice, a drizzle of some hot sauce!
Pasta has to be one of the top comfort foods out there. Therefore, it seemed only fair that we include a mushroom pasta recipe in this list.
While your mushrooms are grilling, cook some pasta, and in a separate pan fry some chopped onion and chopped red bell pepper with some salt and pepper.
Once the mushrooms are grilled, chop them up and mix them together with some balsamic vinegar, olive oil, and thyme.
Once your pasta has cooked, mix in the mushrooms you just marinated, and stir in some goats' cheese until it melts into the warm pasta.
This is the ultimate comfort food, and it's completely vegetarian!
This lighter option is packed with flavor, making it perfect for a summer lunchtime meal.
The portobello mushrooms are grilled to perfection and tossed together with some leafy greens, red cabbage, peppers, olive oil, black beans, tomato, and vinaigrette.
The best thing about salads is they are super versatile and can be customized to include any ingredients you fancy!
If you'd like some extra protein, you could add some grilled chicken to this salad, some canned corn, or any other veggies you like!
Final Thoughts
To conclude, portobello mushrooms have a delicious taste and texture all on their own, so mixing them with all the ingredients mentioned in the recipes above will make for a mouth-watering dish.
Whether you're in the mood for something light and tasty, or comforting and cheesy, portobello mushrooms go well together with a tremendous amount of ingredients and condiments.
Take your pick from one of these recipes and happy grilling!
Latest posts by Julian Wells
(see all)