Do you love grilling seafood? If yes, then these delicious grilled scallop recipes are perfect for you. Grilled scallops are a great way to enjoy fresh seafood without having to spend too much time or effort preparing them. They also taste amazing!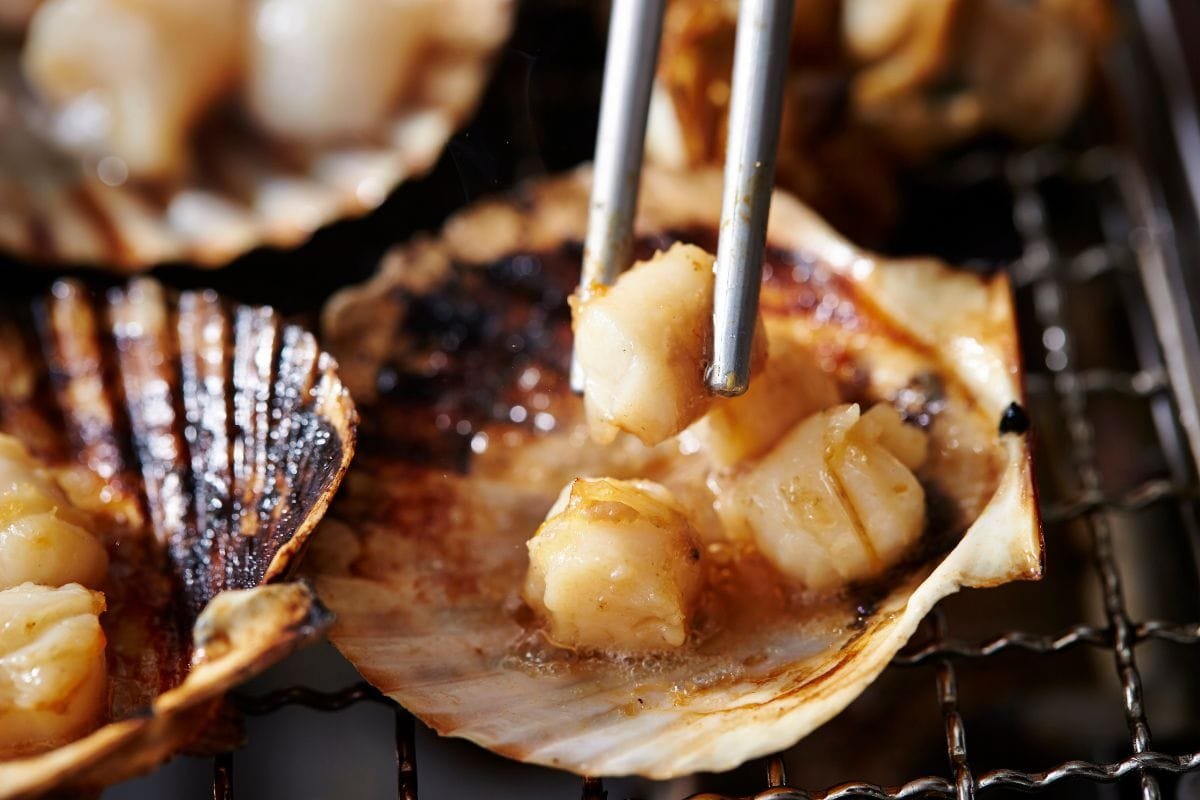 Not only that, but grilled scallops are one of the easiest and quickest ways to prepare seafood on your grill.
The key is to choose the right scallops for each recipe. You want to get the best flavor from the scallops while keeping their texture intact.
Grilled scallops are usually served with lemon juice, butter, garlic, parsley, and other seasonings.
The key to cooking them perfectly is to grill them over high heat until they turn golden brown. This makes their meat tender and juicy.
Here are 15 mouthwatering grilled scallop recipes that will surely impress your guests at your next party.
Starting off our list with something strong and sour for the taste buds, we have a delicious lemony scallop grilling recipe from the Recipe Critic.
It's made by marinating the scallops in lemon juice, olive oil, garlic, and herbs before grilling them.
The result: A flavorful dish that can be enjoyed as an appetizer or main course.
Not only that, but being almost entirely made of protein, these scallops will do a world of good for your health as well!
For the best technique for searing these delicious seafood items, we would recommend using a traditional grilling pan over a high heat, which will allow the food to cook evenly.
Once you've got a nice amount of crisp on the outside, you'll know that these bad boys are ready to serve!
If you're looking for a simple grilled scallop recipe that doesn't require any fancy ingredients, look no further than this one from The Modern Proper.
It's not hard to make and will leave your guests impressed.
It's really up to you whether you like your scallops cooked rare, medium, or well done.
However, if you prefer your scallops more on the delicate side, you might consider leaving them raw.
Even so, this recipe calls for simply grilling the scallops.
When it comes to serving, you can either place them directly into bowls or plates, or you could use skewers to place them on top of a bed of arugula.
These beautiful greens will add some color contrast to the dish.
What makes this recipe is the honey and garlic marinade mixed with a little smoked paprika (Pimenton, a Spanish variety of paprika, is what the recipe calls for).
This gives the scallops a lovely smoky flavor.
These quick and easy grilled scallops are another tasty twist on a classic dish. In this case, the scallops are coated in a mixture of flour, cornstarch, and spices.
After that, they go under the broiler so that they become crispy on the outside and moist on the inside.
We love how straightforward this recipe is, yet still manages to produce such a delicious dish.
If you don't have access to fresh scallops, frozen ones work just fine here.
Just remember that they won't be quite as fresh, so you may need to adjust the cooking times accordingly.
As boring as it might sound, you can't go wrong with a basic grilled scallop.
And old-fashioned scallops cooked right are probably going to go down better than a radical new flavor burnt badly at the grill and dining table.
To take the simplicity even further, this grilled scallop recipe from Food Network uses nothing more than a few basic ingredients.
They include salt, pepper, lemon, a touch of olive oil, and garlic. The scallops themselves are then placed on a hot grill and allowed to cook until they reach the desired texture.
You can also serve them on top of avocado slices instead of the lemon wedges if you'd rather. Either way, this is sure to be a crowd-pleaser.
When it comes to making grilled scallops, you want to keep things simple. That's why this recipe from All Recipes is such a great choice.
It only requires four main ingredients: scallops, lemon juice, butter, and kosher salt.
The key to getting a perfect sear on the scallops is to first season them with salt and pepper. Then, they're placed on a hot grill for two minutes per side.
While they're grilling, the lemon juice is brushed on to help create a flavorful crust.
Once the scallops are finished, you can finish them off by brushing them with melted butter.
A sprinkle of freshly ground black pepper completes the dish. And that's it! Enjoy!
This grilled scallops recipe from Themed Mediterranean Dish uses a combination of Greek yogurt, lemon, oregano, and garlic to make a tangy sauce that goes perfectly with the sweet taste of the scallops.
To get a nice sear on the scallop, you'll need to start by seasoning them with salt and pepper before placing them on a hot grill for three minutes.
After that, you can brush them with a bit of extra virgin olive oil while they're grilling. Once they've been seared, you can pour them over the Greek yogurt sauce and enjoy.
If you like your scallops on the sweeter side, this one from Delish will be up your alley.
This recipe calls for using shallots, honey, and balsamic vinegar to give these little morsels a little kick.
The first step is to coat the scallops in a mixture of flour and cornstarch. Next, you'll place them on a hot grill.
When they're done, you'll brush them with olive oil and then drizzle some honey on top.
Finally, you'll add some chopped balsamic vinegar to the mix and let them rest for ten minutes.
Now, you can either eat them straight away or refrigerate them overnight. But no matter what, you'll enjoy the results.
This grilled scallion recipe from Vindulge is an easy appetizer that works well as part of a larger meal. It's made with white wine, fresh parsley, and a dash of lemon juice.
The best scallops are buttery, and still manage to keep their seafoody taste.
Not only does that recipe manage to balance that, but also adds the flavor of white wine to give everything a little extra punch.
To get a good sear on your scallops, you should season them with salt, pepper, and a few drops of olive oil.
Make sure to not let them cook for too long, or that beautiful sear will turn into an ugly burn.
These grilled scallop recipes from Food & Wine are just about as healthy as they come. They use miso paste instead of butter, which cuts down on calories and fat.
Plus, there's a lot less sodium than regular butter would have added.
Miso paste has a robust flavor that pairs well with the sweetness of the scallops, so you don't need anything else.
You'll want to start by coating the scallops in flour, followed by seasoning them with salt, pepper, and garlic powder.
After that, lay them out on a hot grill for four minutes on each side.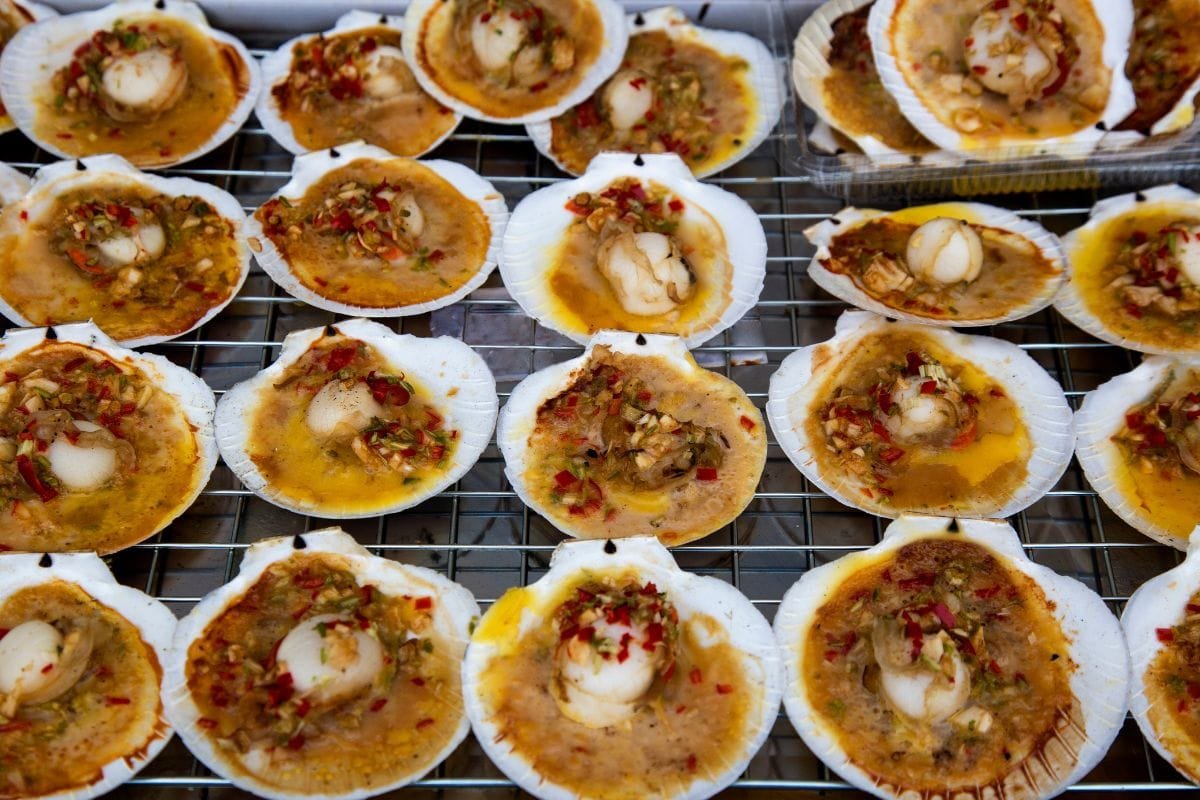 Back to basics with this recipe! These grilled scallops are simple but delicious.
There isn't much more to it than cooking them on a hot grill until they're browned on both sides.
When it comes to cooking scallops, it's important to know how to do it right. If you don't, you'll end up with something that tastes bland and unappealing.
That doesn't mean that you should overcook them though.
Just make sure to flip them halfway through and check frequently to avoid burning them, so they have that ideal sear that makes them a treat at any grill out.
You might think that grilling scallops in shells sound weird, but trust us when we say that it's pretty awesome.
It gives the scallops a nice presentation, plus you get to eat them in their whole shell. The key here is to ensure that you don't overcook them so they remain tender inside.
There are many ways to prepare scallops, but this recipe from Over The Fire is probably the easiest.
All you have to do is soak the scallops in milk for 30 minutes before grilling.
Then, once they've been cooked, you'll toss them in a bowl with a bit of mayonnaise, some lemon juice, paprika, and dill.
If you like things spicy, then these grilled scallops from Fit Foodie Finds are perfect for you. They're loaded with cayenne pepper and served on top of a bed of arugula salad.
This recipe is very straightforward, meaning that all you have to do is coat the scallops in seasoned flour, and then brush them with melted butter.
Next, place them on a hot grill for five to six minutes per side. Once they're done, toss them in a bowl filled with lemon juice, capers, chopped red onion, and a pinch of black pepper.
Conclusion
Whether you're looking to impress guests at your next barbecue party, or just enjoy yourself with a quick meal after work, these grilled scallop recipes are sure to be a hit.
Not only will they help you create a memorable experience, but they also won't cost you an arm and a leg.
So, if you're thinking about trying one of these grilled scallops dishes, then now is the time to go ahead and give them a shot.
Latest posts by Julian Wells
(see all)